Burning Man 2017
Live Stream, Webcam, TV, Theme, Dates
Black Rock Desert, Nevada, NV, 27 August - 4 September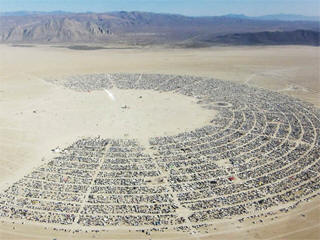 We've included this one in the music festival section for lack of anywhere more obviously applicable, but as anyone who is familiar with the Burning Man knows, this event is far more than just a simple music festival, it's more of a lifestyle event, taking a much more holistic approach to human entertainment and fulfillment. Self expression and participation are the key values here, so be prepared to get involved!
The roots of the Burning Man can be traced as far back at 1986 and a ritual bonfire to mark the summer solstice on San Francisco's Baker Beach, but they didn't head out to the current Black Rock desert location until a few years later in 1990. The attendance has expanded rapidly over that time from a couple of hundred hardy souls in the early days to over 60,000 in recent years.
The culmination of the event is the burning of the statue that gives the event it's name, and this take place on the last night of the festival. The wooden effigy is around 50 feet tall and stands sentinel over the Black Rock site throughout the week's event before meeting it's fate on that final evening.
Festival Lineup
There isn't a lineup as such for the Burning Man, more a series of areas and events - we'll bring you more on this year's installations and attractions nearer the time, as this information starts to become available.
A lot of the appeal lies in the ad hoc nature of the festivities though, so keep an open mind and prepare to be surprised!
TV & Live Streaming
The range of online coverage has really improved over the last couple of years, with live streaming and web cam feeds being available throughout the event. We'll be keeping our eyes open and post the links here.
Update: This year there is a webcast from the Burning Man provided by the event organisers and streaming on Youtube that you can watch right here:
There is also a live webcam from the site here:
For radio coverage tune into Burning Man Information radio, available online and broadcasting live from the Playa:
A fantastic new innovation for this year too can be found on Google Maps, where they've created a detailed, street by street map of the Burning Man site:
Hotels and Accommodation
The Burning Man is all about the camping experience, so if you're thinking of going make sure you read up in advance as, although it is pretty much free and easy, there are rules you won't want to fall foul of - this guide is a good starting point:
If you prefer a bit more comfort, or need somewhere to stay before or after, then you can search for hotels in the Black Rock area, check availability and make reservations for local hotels here.
Reviews & Sharing
Page content by Martin Kerrigan. If you have found the content on this page useful then please feel free to share it with your friends and family, or if you have any information or updates that might be useful for us to add to the page then please contact us