Dublin St Patrick's Day Parade 2017
Live Stream, TV, Route, Start Time, Festival Schedule
Dublin, Republic of Ireland, 17 March, 12.00pm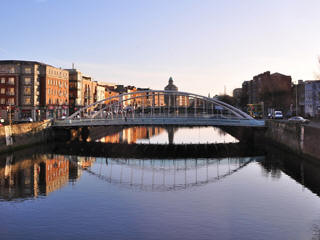 St Patrick's Day is one of those events that is celebrated pretty much everywhere in the world, a somewhat unique situation for the patron saint of such a small island nation, and testament to the travelling the Irish people have taken part in across the centuries.
In the US in particular the occasion is marked with spectacular parades, in New York, Boston and Chicago in particular the streets are filled with Guinness-fuelled locals gathering to watch the green and white clad participants, but the main and iconic event remains the Dublin parade, which is actually part of a greater 5 day St Patrick's Festival, a whole series of events that also includes street performances, live music, boat races, funfairs and of course the beer village.
The parade starts at 12 noon and covers most of the city's major landmarks along the route, but there will be huge crowds (typically in excess of 500,000) so make sure you get there in plenty of time to secure yourself a decent vantage point.
Dublin is a special city to visit at any time, with some of the friendliest people you'll find anywhere in the world and it's a place I've been to many times myself, but I've yet to manage to coincide a visit with St Patrick's Day so that's something that remains very much on the bucket list.
Route and Schedule
2016 parade theme tbc. The parade covers a total distance on 2.km. It starts at Parnell Square in the city centre, then proceeds through the city streets as follows:
O'Connell Street
Cross the O'Connell bridge over the River Liffey
Westmoreland Street
Trinity College at College Green
Dame Street.
Christchurch Cathedral
Lord Edward Street
Nicholas Street
Patrick Street
Finishing at St. Patrick's Cathedral.
Other landmarks passed along the parade route include Dublin Castle and City Hall.
TV & Live Streaming
There will be local TV coverage of the event and we'll be looking out to see if any of this is picked up online. Check back nearer the event for any available live TV streams.
The parade is usually covered in Ireland by RTE, who also now have an online streaming option:
Latest: RTE are indeed providing live streaming of the 2016 parade on the above link. The broadcast starts at 12.15pm local time and will be hosted by presented by Blathnaid Ni Chofaigh, Aidan Power and Des Cahill.
There is coverage on radio and a selection of webcams on Live Ireland:
In the meantime, there is also extensive coverage of Dublin festival events and previous parades on Youtube:
Hotels and Accommodation
If you're in Dublin for the St Patrick's Festival, or any of The Gathering events taking place throughout the year, then you'll need to be aware that hotel prices tend to rise quite sharply over the festival period, so advance booklng is well advised. You can search and check availability for local hotels here.
Reviews & Sharing
Page content by Martin Kerrigan. If you have found the content on this page useful then please feel free to share it with your friends and family, or if you have any information or updates that might be useful for us to add to the page then please contact us