London New Year Parade 2016
Live Stream, Route, Start Time, Schedule
London, UK, 1 January, 11.45am-3.15pm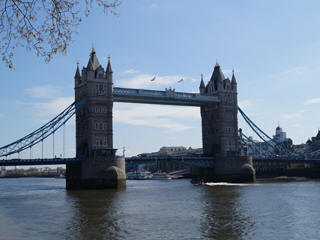 There are a number of celebrations around the world on New Year's Day for those that manage to make it out of bed in time, and aren't nursing too much of a hangover! Or possibly the exceptionally brave who haven't actually made it to bed yet and are just planning on fighting through it instead....
Of all the New Year parades, the annual event in London, often known simply as LNYDP, is possibly the best known. First held in 1987, the parade enters it's 27th year on 1 January 2014, and has so far raised in excess of 1 million pounds for good causes. It has the benefit of passing some of the most famous and instantly recognisable monuments and tourist attractions in the world - sights such as Trafalgar Square, Whitehall and Piccadilly circus provide a truly memorable backdrop.
Route and Schedule
There are a total of over 10,000 performers taking part in the parade each year, with many different countries represented.
The parade route is 2 miles long, and proceeds as follows:
Piccadilly
Piccadilly Circus
Lower Regent Street
Waterloo Place
Pall Mall
Cockspur Street
Trafalgar Square
Whitehall
Parliament Street
The nearest tube stations to use for attending the parade are at Westminster, Charing Cross, Piccadilly Circus, Embankment and St James' Park.
Live Streaming
There are a couple of ways to view the London New Year's Day parade online (it is sometimes shown on BBC1, but wasn't last year, so we will confirm either way once we know what's happening).
These are the planned streaming links for the parade, we'll be checking they still work for this year nearer the time and will update as necessary.
To watch this on TV in the UK go to Channel 192 on the Sky platform or Freesat channel 402
Hotels and Accommodation
If you're in London for New Year then you probably already have your hotel sorted, and will be all too aware of the additional costs invoked at this time of year! If you're still looking however, or possibly hoping to pick up a last minute bargain, then you can search for local hotels here.
Reviews & Sharing
Page content by Martin Kerrigan. If you have found the content on this page useful then please feel free to share it with your friends and family, or if you have any information or updates that might be useful for us to add to the page then please contact us