Mummers Parade 2016
Live Stream, Route, Start Time, Lineup
Philadelphia, PA 1 January, 10am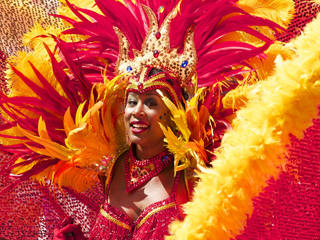 Across the USA it has become an increasingly popular tradition to haul your weary bones out of bed early on New Year's Day and take to the streets to watch (or for the exceptionally hardy, take part in) a New Year Parade. The exact origin of this tradition is uncertain, but ask anyone in the Philadelphia area and they'll tell you in no uncertain terms that their Mummers Parade is the oldest of it's kind in the country.
As to the unusual name, the name Mummer is thought to be of Germanic origin, meaning costume or masquerade. Certainly Mummer's Plays can be traced as far back as medieval times in England, and the word is often seen as being interchangeable with actor or performer.
What is certain is that it's an event well worth attending, a festival of colour, music and entertainment guaranteed to help clear even the muggiest head. A particular feature of the Mummers parade are the clowns, members of local comic clubs named Goodtimers, Landi, Liberty and Murray, and dressing in outrageous costumes, typically featuring brightly coloured umbrellas.
There are a number of other groups of participants (the Mummers that give the parade its title) unique to the Philadelphia parade, namely the Fancies, String Bands and Fancy Brigades, each bringing their own particular brand of entertainment to the party. In total over 10,000 performers take part. The best way to appreciate this is undoubtedly to attend in person, and if you have done so we would love to hear your reviews (see the feedback section at the bottom of this page).
Route and Schedule
The parade actually changed for the 2015 parade, the first modifications in several years. This year's parade will likely again follow the new route, beginning at 15th and Market near Dilworth Park for the judging prior to moving down to City Hall. The parade will then travel south down Broad Street to Washington Avenue. This is pretty much a reversal of the previous route. Other judging areas will be at The Union League of Philadelphia and at the intersection of Broad Street and Carpenter Street.
The String Band order of march for 2015 is below, 2016 details to follow
1 Uptown
2 Greater Overbrook
3 Duffy
4 Durning
5 South Philadelphia
6 Aqua
7 Greater Kensington
8 Fralinger
9 Polish American
10 Broomall
11 Quaker City
12 Woodland
13 Pennsport
14 Avalon
15 Hegeman
16 Ferko
Live Streaming
For anyone who can't make it in person, the Philadelphia Mummers parade is being streamed live online this year, starting from 10am local time, and running through until around 6pm, followed by later coverage of the SugarHouse Casino Fancy Brigades from 8pm to 10pm:
Hotels and Accommodation
If you're in Philadelphia over the New Year period and looking for somewhere to stay, then the town will be busy so make sure you get your booking made as early as possible. You can check out availability and make reservations for local hotels here.
Reviews & Sharing
Page content by Martin Kerrigan. If you have found the content on this page useful then please feel free to share it with your friends and family using the social media sharing tools below, or if you have any information or updates that might be useful for us to add to the page then please contact us