Super Bowl Parade 2016
Live Stream, Route, Start Time, Schedule
Denver, 10.00am (parade from 12 noon) Tuesday 9th February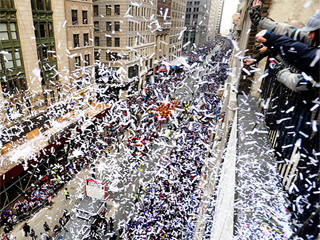 Now this may seem a strange event to include, being non-specific in terms of location and by it's very nature variable in format, but there is just something about the colour and fanfare of a dramatic sporting victory parade that appeals to me, and the Super Bowl parade has to be one of the biggest there is so I would love to be in town to attend one some day.
I think part of the attraction may be that, as a Newcastle United football fan I have been somewhat starved of sporting success, in terms of trophies certainly, although the parade and civic reception that celebrated Kevin Keegan's 1st Division victory back in May 1993 is an occasion I will never forget, so I can certainly identify in particular with those fans who have had to wait a long time for their celebratory party.
For attendance figures, this is obviously also affected by location, but either venue will have some way to go to beat the estimated 1 million who turned up for the parade in New York to celebrate the victory of the NY Giants, although they only had to wait 4 years for that one, so may not have had quite the same level of enthusiasm!
Route and Schedule
We'll post full route, start time and schedule here as soon as we have them.
The Super Bowl 50 in 2016 is being contested between Carolina Panthers and Denver Broncos so it will wither be Denver or Charlotte for the parade.
Latest: Congratulations to the Denver Broncos, winners of Super Bowl 50. They now return to Denver for their victory parade on Tuesday 9th February, with entertainment from 10am and the parade starting at noon from 17th and Wynkoop Streets. The parade will travel down 17th then along Broadway.
There will then be a rally at Civic Center Park at 1pm.
TV & Live Streaming
There is usually live coverage to be found online as the local TV station will almost always cover the parade and most of these have online streams these days. We'll post any available links here on the day of the parade so please check back then.
In the meantime, you can always watch coverage of classic Super Bowl victory parades on the ever-reliable Youtube:
Hotels and Accommodation
If you're in the winning location for the Super Bowl parade and looking for somewhere to stay, you can check out availability and make reservations for local hotels here.
Reviews & Sharing
Page content by Martin Kerrigan. If you have found the content on this page useful then please feel free to share it with your friends and family, or if you have any information or updates that might be useful for us to add to the page then please contact us