Trinidad Carnival 2016
Live Stream, Parade Routes, Start Time, Schedule, Lineup
Port of Spain, Trinidad & Tobago, T&T, 8-9 February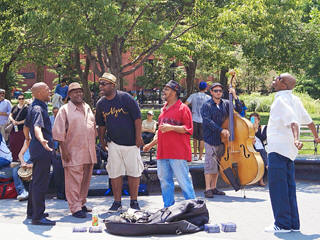 There are a number of carnival parades that take place around the world, from Mardi Gras in New Orleans to Notting Hill in London, that can trace their roots back to the Caribbean, and it is here that without doubt the biggest and best events still take place each year, with a carnival season spread over several weeks across the islands of Trinidad and Tobago, and culminating in 2 full days of parades.
If you only go to one Caribbean Carnival in your lifetime then this would have to be the choice, combining the fantastic weather conditions and clear blue seas with some of the friendliest and most welcoming local people anywhere on the planet, in a party that just goes on and on! One thing is for certain, you need plenty of stamina to even think about attending the T&T Carnival parades.
Carnival Monday and Tuesday are the climax of the event, with the parade of the bands, where as well as entertaining the crowds the bands are in competition with each other to win the prestigious Band of the Year title. As well as the parade the event is characterised by calypso tents, big public fetes and new band launches.
During the parades, as well as the bands there are a number of large trucks with DJs and their full equipment pumping out all varieties of Caribbean flavoured music and everyone taking part dresses in fantastic traditional costumes - all in all, a festival of noise and colour that will live in your memory for a very long time!
Route and Schedule
There are a number of things going on around the islands in the weeks leading up to the main carnival, but these are the main headline events:
Sunday 7 February:
Dimanche Gras, Kings & Queens of Carnival Finals, Queen's Park Savannah, start time 7pm
Monday 8 February:
J'Ouvert, from 3am; Lineup to follow
Parade of Bands (Carnival Monday version) at 11am
Monday Night Mas, Paramin Hill, 8pm
Tuesday 9 February:
Parade of Bands for Carnival Tuesday, 11am
The main parades take place through Port of Spain, although there are also large events in San Fernando. It has been announced that in Port of Spain the parade routes are now designed specifically to try and help ease traffic congestion and long waiting times, especially in the areas around Queen's Park Savannah.
For more information of the parade routes during the carnival, check out the official site:
Live Streaming
There is increasingly becoming more online streaming coverage of the T&T or TNT carnival as internet access and speeds continue to improve. Triniscene provides some of the best online carnival coverage via this link:
TV4 are also advertising live carnival coverage - they have Dimanche Gras live online and the Junior Parade of the bands, remains to be seen what else they cover form the main carnival events:
There is another online stream via Carnival Info promising live coverage from both carnival 2015 Monday Parade of the Bands as well as Tuesday's Parade of the Bands events here:
Carnival Parade of the Bands streaming
Carnival TV has some live streams too, with the National Panorama Finals from Queen's Park Savannah, Port of Spain on Carnival Monday among the events promised:
There is also an official carnival channel on UStream which has been providing some good live coverage:
There has in previous years also been webcast carnival coverage via local channels Synergy TV and Gayelle via the JumpTV service, but we haven't been able to track down any links for this year yet - we'll keep checking though!
There is also extensive user-generated coverage via Youtube, with highlights from previous years, plus many updates during the event:
Hotels and Accommodation
If you're in Trinidad and Tobago during the carnival and looking for somewhere to stay to attend any of the parades or other events you can check out availability and make reservations for local hotels here.
Reviews & Sharing
Page content by Martin Kerrigan. If you have found the content on this page useful then please feel free to share it with your friends and family, or if you have any information or updates that might be useful for us to add to the page then please contact us