NFL Pro Bowl 2016
Live Stream, Tickets, Start Time, Rosters
Aloha Stadoium, Hawaii, 31 January, 8pm ET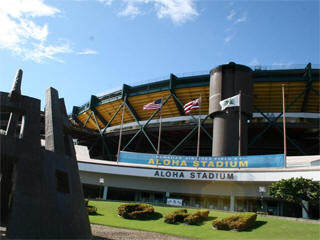 The annual meeting between the best of the AFC and NFC returns to the Aloha Stadium this year. I must confess that the grand sport of American Football (I know it's just football to you US types, but in the UK we kind of have the original version so need to differentiate somehow!) tends to pass me by, and to a large extent the rules remain as mysterious as the strangest hieroglyphics, but I do very much enjoy long drawn out sporting matches with a strong tactical element (Test match cricket anyone?) so I'm determined to make more of an effort to unravel this one, and with the Super Bowl only a few weeks away then the Pro Bowl seems as good a place as any to make something of a start.
I have to say the usual location is about as good as it gets (aside possibly from some of the Caribbean cricket grounds...) with the Aloha Stadium perched right on the coast of the beautiful town of Honolulu - if you're going to watch football anywhere then this seems a pretty decent place to start, although for 2015 you'll have to make do with Arizona, before the event returns to Hawaii for the 2016 game.
This is an all-star game featuring the best players of the American Football Conference (AFC) versus those from the National Football Conference (NFC). I'm sure there's a reason for which teams play where but even Wikipedia couldn't unravel it for me, so I'm just going to go ahead and assume it's something to do with money. What is certain is that this game features the best players from both so should be an absolute cracker.
If I ever do get to attend the Pro Bowl then the tailgate party would be right there on the list as well. Nowhere formalises pre-game eating and drinking quite like a US sporting event, and here it is actually an official ticket-only event, held at nearby Richardson Field so requires some advance planning, but by all accounts is well worth it!
Event Details
The Pro Bowl returns home to Hawaii in 2016.
Lineups to follow.
Live Streaming
The Pro Bowl is being broadcast on TV by CBS, but this year the NFL have been flushed with the success of streaming last year's Super Bowl online so this year are extending this service to the Pro Bowl. You can access this stream via their website:
In the UK, the Pro Bowl is being broadcast live and in HD by Sky Sports. You can watch this online, but you will need a subscription:
It's likely other international sources will pick up this broadcast too, so check back as we'll update any other links we find nearer the time of the game.
Hotels and Accommodation
If you're in town for the Pro Bowl and looking for somewhere to stay to attend the Bowl then you can check out availability and make reservations for local hotels here.
Reviews & Sharing
Page content by Martin Kerrigan. If you have found the content on this page useful then please feel free to share it with your friends and family, or if you have any information or updates that might be useful for us to add to the page then please contact us