Orange Bowl 2016
Live Stream, Tickets, Start Time, Schedule
Sun Life Stadium, Miami FL, 1 January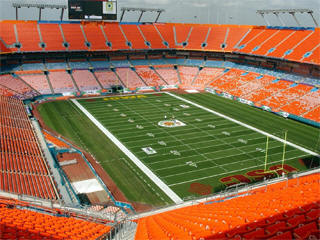 The Orange Bowl is one of a series of American College Football games that take place over the New Year period, with other popular games being the Rose Bowl, Cotton Bowl, Sun Bowl and Fiesta Bowl. The game takes place on the 1st January at the Sun Life Stadium in Miami Gardens.
The game is currently sponsored by Discover Financial, giving it the current official title of Discover Orange Bowl, taking over from the previous yet remarkably similar event carrying the FedEx name.
College football in the United States is synonymous with the new year period, and many families mark the occasion by attending a game, as well as the all-important and iconic tailgate parties that precede these events - for the uninitiated this involves crowding round your cars/trucks in the car park of the game, firing up the BBQ and having an open-air party. These parties are traditionally a grilled meat-fest, but as a card-carrying vegan I feel duty bound to point out that there are plenty of veggie possibilities available - there are just a few ideas here.
The tailgate party is an event in it's own right, and here forms part of the Orange Bowl Game Day Fan Zone, which will also include a selection of interactive games and live music performances. This event starts at 1.30pm, and with a game that doesn't start until 8pm you can see that the day is about much more than just the football!
Event Details
Teams and exact date/start time to follow
Live Streaming
The broadcast rights for the Orange Bowl are now carried by ESPN. This does require a subscription but you can watch online or on your mobile device, and they do offer the convenience of a 24 hour pass if you just wish to pay for this one game.
Hotels and Accommodation
If you're in Miami over the New Year period and looking for somewhere to stay to attend the Orange Bowl then you can check out availability and make reservations for local hotels here.
Reviews & Sharing
Page content by Martin Kerrigan. If you have found the content on this page useful then please feel free to share it with your friends and family using the social media sharing tools below, or if you have any information or updates that might be useful for us to add to the page then please contact us