Boston 4th July 201
5
Fireworks, Live Stream, Harborfest, Pops Concert
The Esplanade, Charles River, Boston, MA, 4 July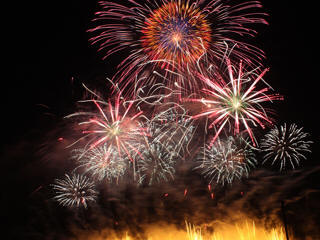 BY MARTIN KERRIGAN
The citizens of Boston regard themselves as patriotic to the core, and this is very much reflected in their Independence day celebrations, which extend way beyond the 4th of July into almost a week of parties, special events, live performances and of course the famous and iconic Boston Pops free concert and fireworks spectacular;
The 4th of July party in Boston is part of the wider Harborfest festival, which takes place over 6 days from the 2nd to the 7th July and includes a range of entertainment including harbour cruises, historical reenactments (I'm guessing a certain tea party might feature here!), free concerts and the annual Party on the Plaza on the evening of July 6th.
Event Schedule
The highlight of the Independence Day celebrations is Boston is the Boston Pops Fireworks Spectacular, an outdoor concert that takes place in the Hatch Shell on the banks of the Charles River. The Oval itself opens at 9am on July 4th, and is usually full by 2pm so get there early!
The full schedule of events for the day is:
09:00: Oval opens
12:00: Recorded music begins in Boston
19:00: WBZ News Radio coverage begins
20:00: Boston Pops broadcast begins on WBZ-TV Boston
20:20: Boston Pops concert begins
22:00: CBS Network national broadcast begins
22:35: Fireworks begin
23:00: Boston Pops Fireworks Spectacular ends
The headline act for the 2014 event will be The Beach Boys.
If you don't make it into the Oval then the best viewing spots for the fireworks will be along the Charles River and on the Mass Avenue and Longfellow Bridges.
Many people choose to take in the fireworks from the best viewing position of all, that is, a boat on the Charles River, and harbour cruises are very popular, although you will of course need to book your spot well in advance. There are many boats offering 4th July cruises, and I especially like the look of this one:
Spirit of Boston 4th July cruise
If you're looking for a lively onboard party then The 3rd Annual IndepenDANCE Party Cruise on The Provincetown II could well be the way forward, offering live music at an exclusive party - ticket details here.
Live Streaming
The Boston Pops concert is broadcast live on Boston local CBS, so if you can get to a TV then that is the channel to look for.
There is also coverage of the event on the local Boston TV station WBZ TV:
The live coverage of the event on the radio is a little easier to find though - the WBZ Newsradio 1030 coverage will be streaming live here:
You can also listen on WGBH Boston Public radio:
As an alternative for watching the fireworks online in particular there are a number of live webcams around Boston, including some excellent city skyline views:
Hotels
& Accommodation
If you're in the Boston area on the 4th July then it is very much advisable to book your accommodation asap. You can search for hotels, check availability and make reservations for local hotels here.
Reviews & Sharing
If you have found the content on this page useful then please feel free to share it with your friends and family using the social media sharing tools below:
We're always interested in hearing comments and feedback from anyone who has attended these events, or if you have any information or updates that might be useful for us to add to the page then please contact us or add your comments using the form below:
Similar Events
Macy's Fireworks New York City