Vienna New Year Concert 2018
Live Stream, TV Coverage, Lineup, Online Webcast Feed
Musikverein, Golden Hall, Vienna, 1 January, 11.15am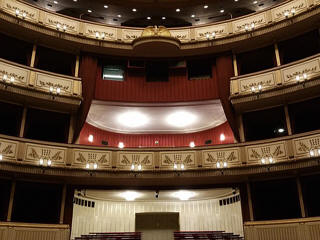 The New Year's Concert of the Vienna Philharmonic Orchestra has been a feature of the global new year's day celebrations for a great length of time, tracing it's origins way back to 1838, although the format and venues have changed over the years.
The current new year concert is one of the most watched classical music events anywhere in the world, being brooadcast live on TV to dozend of countries around the world, with an even larger audience opened up in recent years by the large growth in the popularity and availability of online streaming.
Event Details
If you would like to attend the new year concert in Vienna then securing tickets is a lottery - literally! You'll need to register via the official website for any of the 3 main holiday season concerts:
30 December: Preview Performance
31 December: New Year's Eve Concert
1 January: New Year's Concert
The registration process takes place throughout January and February and results are notified in March for successful applicants, so you need to be making your plans well in advance. Get more details on the lottery process and apply for your tickets online here.
The New Year's Concert 2017 will be conducted by Gustavo Dudamel and include compositions by Franz Lehar, Emile, Johann Strauss Jr, Josef Strauss, Franz von Suppe, Carl Michael Ziehrer, Otto Nicolai, Johann Strauss senior.
Live Stream, TV Coverage
The new year concert from Vienna is broadcast around the world in many different countries and watched by an audience of many millions. In the UK is has been part of the BBC new year programming schedule for several years now, generally shown live on BBC2.
You can watch this coverage online here:
In the US this is also being live streamed online by PBS as part of their Great Performances schedule:
Hotels and Accommodation
If you are in Vienna over the Christmas and new year festive season then the city's many hotels will be very busy, so as usual we advise you to book well in advance rto secure the best places.
You can check availability and make reservations for local hotels here.
Reviews & Sharing
Page content by Martin Kerrigan. If you have found the content on this page useful then please feel free to share it with your friends and family, or if you have any information or updates that might be useful for us to add to the page then please contact us
For a full range of new year parties around the world you can also visit New Years Eve Live.