Boston Pops 4th July 2017
Live Stream, TV Coverage, Lineup, Start Time
The Esplanade, Charles River, Boston, MA, 4 July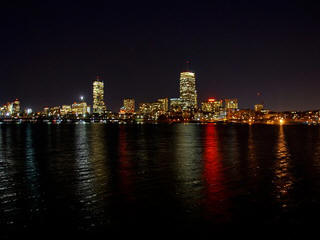 The Boston Pops is actually the name of the orchestra based in Boston, famous for playing both light classical and pop music, but the name has now lso become synonymous with the 4th July concert held each year on the city's Esplanade, on the banks of the Charles River.

The Boston Pops 4th July concert is the highlight of the city's annual Independence Day celebrations, and is immediately followed by the spectacular 4th July fireworks display. In more recent years there has also been live TV coverage of the Boston Pops, making the event widely available to a much larger audience, an impressive feat with the amount of conflicting entertainment available on the average 4th July in the USA!
Event Schedule
The highlight of the Independence Day celebrations is Boston is the Boston Pops Fireworks Spectacular, an outdoor concert that takes place in the Hatch Shell on the banks of the Charles River. The Oval itself opens at 9am on July 4th, and is usually full by 2pm so get there early!
There is also a Boston Pops concert on the Friday evening, 3rd July, from 8.30-10pm.
The full schedule of events for the day is:
09:00: Oval opens
12:00: Recorded music begins in Boston
19:00: WBZ News Radio coverage begins
20:00: Boston Pops broadcast begins on WBZ-TV Boston
20:30: Boston Pops concert begins
22:30: Fireworks begin
23:00: Boston Pops Fireworks Spectacular ends
The headline performers at the Boston Pops concert for 4th July 2016 will be Demi Lovato and Nick Jonas.
TV & Live Streaming
The Boston Pops concert is broadcast live on Boston local CBS, so if you can get to a TV then that is the channel to look for.
There is also coverage of the event on the local Boston TV station WBZ TV:
The live coverage of the event on the radio is a little easier to find though - the WBZ Newsradio 1030 coverage will be streaming live here:
You can also listen on WGBH Boston Public radio:
Hotels
& Accommodation
If you're in the Boston area on the 4th July then it is very much advisable to book your accommodation asap, an expect to pay a holiday premium rate; there's no real way around this unfortunately.
You can search for hotels, check availability at the above any many other venues, and make reservations for local hotels here.
Reviews & Sharing
Page content by Martin Kerrigan. If you have found the content on this page useful then please feel free to share it with your friends and family, or if you have any information or updates that might be useful for us to add to the page then please contact us