National Independence Day Parade 2017
Live Stream, TV, Lineup, Start Time, Schedule
Constitution Avenue, Washington, DC, 4 July, 11.45am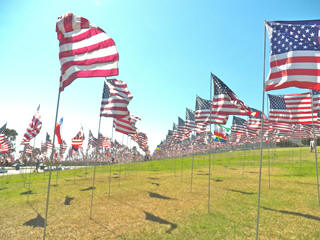 As regular readers of the site will know I'm on record with my approval of the US tradition of patriotic parades and their love of a good parade to mark a special occasion, and nowhere is this more apparent that on the nation's Independence Day, the 4th of July, where the snappily titled National Independence Day parade takes place on Constitution Avenue in Washington DC.
There are numerous other events taking place in the DC area to mark the day, not least the 4th July fireworks and Capitol Fourth concert I've also featured, but in terms of a family event and a appropriate medium to mark such an occasion, this is probably the one to watch.
With representatives from across the nation marching in the parade, it's a red, white and blue spectacle to behold, with crowds gathering along the length of the route hours before the start to make sure they get a decent vantage point. The parade's main features are the music of the marching bands and the colour and ceremony that will stir the patriotic soul of even the most cynical of viewers.
Event Schedule
The Washington DC 4th July parade gets underway at 11.45am, and follows a route down Constitution Avenue, travelling from 7th to 17th street.
It does get very crowded for the parade, so best get there in plenty of time to get yourself a decent viewing point.
The Independence Day parade lineup for this year is to follow - it's very late being confirmed this year, as of July 3rd the official website still isn't updated!
TV & Live Streaming
In previous years there has been varying levels of coverage available on TV and via live streaming, so we will keep you updated on the latest for this year's parade.
If there is to be a live stream, it will also likely be notified, and possible provided, via the event's official Facebook page, so you may like to keep an eye of that for details too.
The organisers do generally advise that they do shoot coverage of the parade using their own professional videographer, and that copies of this will be made available after the event to members of participating bands via their band leader.
Latest: There will be a full stream of the parade on the official Youtube page shortly after it ends:
For something a little different in terms of viewing perspective, and probably about the best you're going to be able to get, there is actually a live webcam feed on Constitution Avenue, right at the corner of 17th Street, where the parade ends:
Hotels
& Accommodation
If you're in the Washington DC area on the 4th July then it is very much advisable to book your accommodation asap. You can search for hotels, check availability and make reservations for local hotels here.
Reviews & Sharing
Page content by Martin Kerrigan. If you have found the content on this page useful then please feel free to share it with your friends and family, or if you have any information or updates that might be useful for us to add to the page then please contact us