Notting Hill Carnival 2017
Live Stream, TV Coverage, Route, Start Time, Lineup, Schedule
Notting Hill, London, UK, 27-28 August, 9am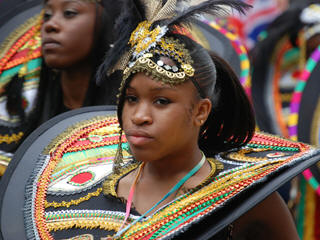 This is an event that has become synonymous with the late summer in London, as over the August bank holiday weekend each year the Notting Hill carnival sees a festival of noise and colour as the local Caribbean community takes to the streets to celebrate a party in the traditional manner - a carnival parade!
The carnival is a tradition that has been taking place annually since way back in 1966, and has grown over the years to attract crowds of well over a million people over the course of the weekend, making it comfortably one of the largest parades in the world, and certainly one of the best known.
The main features of the Notting Hill carnival are the food - Jerk chicken, curried goat and rice and peas are the local specialties, and of course the music, with steel bands, Soca and Calypso Music the more traditional favourites that have been joined in recent years by an increasing range of more modern genres such as Reggae, R&B, Funk and House, making this an event that will appeal to visitors of all ages.
Route and Schedule
The parade travels an almost-circular route around the Notting Hill area, covering the following man streets:
Great Western Road
Chepstow Road
Westbourne Grove
Ladbroke Grive
You can view a full map of the parade route here:
TV & Live Streaming
There seems to be a reduction in coverage this year, with London Live not having their usual broadcast advertised. There was talk of a pssible live stream via the official event Facebook page so we'll keep an eye out for that and post the link if it appears.
There is some live coverage available via Boiler Room TV:
There is usually also a decent range of live coverage on the BBC News 24 channel, with their roving reporters mixing with the crowds and conducting not-at-all-awkward interviews with some of the participants:
Radio coverage live from the event will be provided by BBC London 94.9
Hotels and Accommodation
If you're in London for the Notting Hill Carnival then it is wise to get your accommodation reserved as soon as possible. You can check local availability and search for local hotels here.
Reviews & Sharing
Page content by Martin Kerrigan. If you have found the content on this page useful then please feel free to share it with your friends and family, or if you have any information or updates that might be useful for us to add to the page then please contact us