Macy's 4th July Fireworks 2017
Live Stream, TV, Viewing Points, Start Time, Webcast Feed
East River, Jersey City, Statue of Liberty, NYC, New York, 4 July, 9.20pm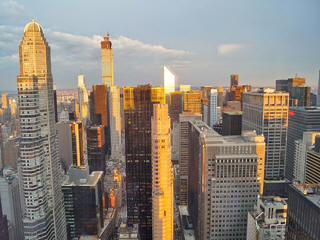 The 4th of July in the United States of America is probably the single biggest holiday event of the year, with the whole country uniting to celebrate their Independence from the old colonial power of Great Britain.
As a Brit myself I should probably have mixed feelings about this, but to be honest having read a fair bit about this period of history I have to say I think they were more than justified in pushing for their Independence.
The biggest party in the country is in New York, where the famous Macy's fireworks display have been taking place since 1976 and are broadcast live the nation. Department store Macy's have become synonymous with public holidays in New York - they also sponsor the annual Thanksgiving parade - and the tradition now is such that people will refer to the Macy's 4th July fireworks rather than mentioning New York, and everyone will automatically know where they're talking about.
Event Schedule
The main NYC 4th July fireworks this year will be launched from 5 barges on the East River, located between East 24th and 41st Streets.
The best views are therefore in the north of Brooklyn and on the lower Manhattan and Queens waterfront areas. There are however potential viewing spots all across the city, this site has an excellent map with loads of possibilites, including bars and hotels with rooftop gardens:
The Jersey City 4th July fireworks will be launched from in front of the Statue of Liberty (starting at 9.30pm) and in front of the Colgate Clock and Goldman Sachs building.
There are always some big name performers on stage as part of the Macy's 4th July show as well - this year the headline acts are Jennifer Lopez, Sheryl Crow, Brad Paisley, Lady Antebellum, Hailee Steinfeld and Charlie Puth.
For the best view of the fireworks, many people take to the river itself, where you can guarantee there won't be anyone standing in front of you. There are several companies offer 4th of July cruises, I especially like the look of this one:
Another popular cruise option is Independence Day Family Fireworks Cruise on board The Hornblower Infinity yacht, where the party includes live DJ, buffet dinner and of course a prime viewing spot for the Macy's fireworks - more details and ticket sales here.
One place you would be pretty much guaranteed an fantastic view is from the top of the Empire State Building - you can buy tickets for the viewing platform here:
Another option available is to take to the newly opened One World Observatory at the 1 World Trade Centre (WTC) building. The 4th July party here includes an open bar and snacks with one of the best views in town, genuinely a unique proposition.
Note: if you're a big fan of fireworks displays then be sure to check out the New York new years eve fireworks
TV & Live Streaming
The Macy's 4th July fireworks are broadcast live on NBC TV, which does now finally have an online streaming option, although be aware that you will need to log in using your cable TV account to view this, which means unfortunately it isn't a great optiion for anyone outside the US:
Another excellent alternative for fireworks viewing is to check out some of the webcam views - New York has absolutely loads of them - and they can give you a unique perspective not just on the official display but any fireworks being launched across the city:
Hotels
& Accommodation
If you're in New York on the 4th July then you need to be aware that it is one of the busiest nights of the year, so get your reservation in as early as you can. You can search for hotels, check availability and make reservations for local hotels here.
Reviews & Sharing
Page content by Martin Kerrigan. If you have found the content on this page useful then please feel free to share it with your friends and family, or if you have any information or updates that might be useful for us to add to the page then please contact us