Seattle 4th July 2017
Fireworks, Live Stream, Start Time, Events, Parties, Hotels
Lake Union, Seattle, WA, 4 July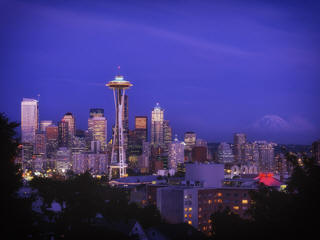 The 4th of July in Seattle has always been an excuse for one great big party, but in recent years there have been some serious doubts over whether there would be any 4th July fireworks at all in the city, and there was a very real threat that the event would be cancelled due to lack of funding.
However, just when all seemed lost, a number of big-name sponsors, including Microsoft, Starbucks and Amazon.com got involved and put together the required funding to mean the event can continue to go ahead. The main Independence day party is now focused on Lake Union, the main waterway that gives the city such a picturesque maritime setting, with cruises being a particular feature as people hustle to find the best viewing points for the main July 4 fireworks display.
Event Schedule
This year the main venues for the Seattle 4th July celebrations, entitled Seafair Summer Fourth, are Gas Works Park, with events from noon until 11pm, and South Lake Union Park, where the party starts at 3pm and also continues until 11pm.
Both venues are completely free of charge and culminate in a spectacular fireworks show that will light up the skies right across the city.
Away from the main central Seattle party, there are many 4th July fireworks displays out in the suburbs - some of the main ones are:
Bellevue: Downtown Park 10:05 p.m.
Edmonds: Civic Stadium 10 p.m.
Everett: Port Gardner Bay 10:20 last year
Federal Way: Celebration Park 10:15 p.m.
Kent: Lake Meridian Park 10 p.m.
Kirkland: Marina Park 10:15 p.m.
Lakewood: Joint Base Lewis-McChord 10 p.m.
Newcastle: Lake Boren Park 10 p.m.
Renton: Coulon Park 10 p.m.
SeaTac: Angle Lake Park 10:15 p.m.
Tacoma: Ruston Way 10:10 p.m.
One of the best ways to view the fireworks is to take a cruise on Lake Union, and make an evening of it with dinner and champagne, as well as live music before the pyrotechnics:
TV & Live Streaming
The Seattle 4th July fireworks will be broadcast live by local TV station Kiro 7 TV - you can watch this channel online here:
There are also a large number of live webcams positioned around Seattle, and looking at the Space Needle in particular, from where you should be able to catch some decent views of the fireworks:
Hotels
& Accommodation
If you're in Seattle for the 4th July party then it is advisable to book your accommodation as early as you can. You can search for hotels, check availability and make reservations for local hotels here.
Reviews & Sharing
Page content by Martin Kerrigan. If you have found the content on this page useful then please feel free to share it with your friends and family, or if you have any information or updates that might be useful for us to add to the page then please contact us