F1 Malaysia 2017
Live Stream, TV, Practice, Qualifying, Tickets, Session Times
Sepang International Circuit, Sepang, Malaysia, 29 Sept - 1 Oct, 16:00 (local time)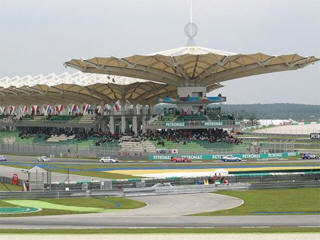 One of the main things that appeal about the Grand Prix Formula 1 circuit, certainly to me at least, is the sheer range of locations is can take you to, in exotic locations covering pretty much the whole globe. This includes more traditional holiday hotspots like Monaco, Singapore or Budapest, but also places that you probably wouldn't think to visit if there wasn't a race there.
Sepang in Malaysia definitely falls into this latter category. Sepang is a small town located in the Selangor district of Malaysia, and if it wasn't for the Grand Prix it's highly unlikely you would have heard of it. It's next most notable claim to fame concerns the controversy over a proposed industrial pig farm, which gives you an idea of it's provincial nature!
So it is the motor sport that very much puts this place on the map. The Sepang International Circuit has been hosting a Formula 1 grand prix every year since it's opening in 1999. The race is currently sponsored by Petronas, the Malaysian oil and gas company that is probably most well known for the Petronas Twin Towers in Kuala Lumpur, which were for many years famously the tallest buildings in the world, before being usurped by the pesky Taipei 101.
If you're going to this race, then it's sensible to be prepared for adverse weather conditions - racing in wet conditions is more likely here than pretty much any other location, and when the rain comes it tends to fall hard and fast, which has actually led to the race being completely abandoned in the past.
Race Schedule
The full schedule for the Malaysian Grand Prix is as follows (all at local times in Sepang, Malaysia):
Friday 29 September:
Practice 1: 10.00-11.30
Practice 2: 14.00-15.30
Saturday 30 September:
Practice 3: 13.00-14.00
Qualifying: 16:00
Sunday 1 October
Race Day: 16:00
If you would like any more specific information on the Sepang circuit, then the official F1 site studies the course in detail:
TV & Live Streaming
There is a good range of coverage in most countries for the 2015 Formula 1 Grand Prix season, and even better news for computer bound viewers is that more and more of the TV companies are also providing streams via online platforms, increasing the range of viewing options considerably.
This years Malaysian Grand Prix is being shown by Sky in the UK - they have a dedicated F1 channel and if you're a subscriber this also gets you online viewing rights via Sky Go:
In the US, coverage will again by provided by NBC Sports:
In Australia, Network Ten have free F1 coverage, including online streaming, but it is likely access to this will be restricted to local viewers:
Grand Prix Live on Network Ten
For coverage in other countries you can find broadcaster details here, now updated for this year's Grand Prix season:
If you can't find TV or online streaming in your location, then the next best thing is probably to follow the race online using the excellent live timing feature on the F1 official site, available for a number of platforms:
There is also of course excellent coverage of the Malaysian and other grand prix on Youtube, including classic races and onboard camera coverage:
Hotels and Accommodation
If you're in Malaysia for the grand prix and looking for somewhere to stay there is a very wide range of accommodation available, including some of the most affordable options on the F1 circuit then you can check out availability and make online reservations for local hotels here.
Reviews & Sharing
Page content by Martin Kerrigan. If you have found the content on this page useful then please feel free to share it with your friends and family, or if you have any information or updates that might be useful for us to add to the page then please contact us