Berlin Fashion Week 2017
Live Stream, Runway Schedule, Designers
Berlin, Germany, 17-20 January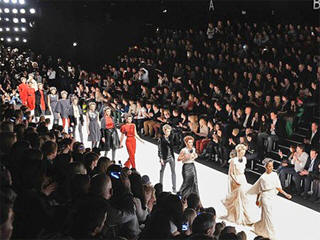 BY YVONNE KERRIGAN
As a female of the species, I admit I do love fashion and watching new trends come and go and old trends being revisited (really should have kept some of my 80's gear!) As I get older though, the fashions out there seem to appeal to me less and less as I strive to achieve my own look that's not dictated by label name or the current fashion magazines that tells me to ditch the top I bought last week because it's sooo not hot now!

However, the beautiful city of Berlin will be opening its' doors to the masses of fashionistas all hot footing it to the runways for the new Fall/Winter collections that will guide them in their wardrobe choices when that season finally comes around. I would love to be there in Berlin, sat in a cafe and people watching during this fabulous time when the most style conscious of us take to the streets in search of fashion inspiration.

Berlin welcomes the Mercedes Benz Fashion Week, held twice a year, annually in the German capital and attracts Designers, Trade Experts, Buyers and of course Fashionistas and celebrities galore to gaze upon the fabulous new lines that the new season has to offer.

The city is transformed into an urban catwalk as the Brandenburger Tor takes centre stage for the hustle and bustle that comes with hosting one of the Fashion World's top events. It does sound like a lot of fun when I put it like that!

With over 150 designers from near and far preparing to walk their collections down the cat walk, Berlin is the place to be this January as we kick off 2013 in the upmost style.

Last year saw stars including Julianne Moore, Jared Leto Georgia May Jagger and Sky Ferreira attending the Hugo Boss Show at the Old Masters Museum, Olivia Palermo at Brian Rennie's Show, Lara Stone attended a cocktail party for Mercedes-Benz, model Karolina Kurkova, photographer/film maker Alex Prager, actress Marie Baumer all attended the Mercedes Beanz and Vogue Fashion Night.

So keep an eye out for some celebrity spotting, in particular any startling fashion faux pas, although we don't expect many at this Uber stylish week of Fashion. Hamburg band We are Alasaka will be presenting their first EP at the start of the Berlin Fashion week.
Event Schedule
There is a packed and hectic schedule for the fashion week - full schedule to follow.
TV & Live Streaming
It is becoming increasingly common for the main events from the big fashion shows to be streamed live online, with many more also being later updated on popular video sites. The excellent Runway website provides links to all live stream and videos for this event:
You will also find many videos, past and present on the official Youtube page:
Berlin Fashion Week on Youtube
Hotels and Accommodation
If you're in Berlin for the fashion show and looking for somewhere to stay you can search for hotels, check availability and make reservations for local hotels here.
Reviews & Sharing
Page content by Martin Kerrigan. If you have found the content on this page useful then please feel free to share it with your friends and family, or if you have any information or updates that might be useful for us to add to the page then please contact us