Edinburgh Tattoo 2017
Live Stream, TV, Webcam, Dates
Edinburgh Castle, Scotland, 4-26 August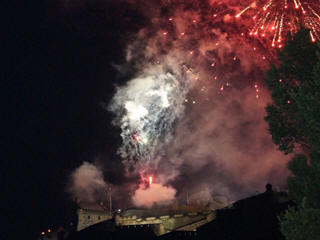 The Edinburgh Tattoo is one of those events we've experienced first hand, though a combination of growing up and Edinburgh and visiting regularly in the summer months in the years since.
The Royal Edinburgh Military Tattoo, to give it's full official title, takes place each August at the city's iconic castle with live perfornances each night over several weeks, accompanied by fireworks shows at the weekends.

The tattoo is part of the wider Edinburgh festival that takes over the whole city each summer, bringing in huge crowds of tourists and pushing hotel and accommodation prices sky high. The main attractions of the festival, aside form the tattoo, are the comedy shows and performances of the Edinburgh Fringe that fill the bars and theatres of the city throughout the summer.
Event Details
The Edinburgh Tattoo runs from 4-26 August, with shows each night apart from Sundays.

The performance starts at 9.00pm on weekdays, with 2 shows on a Saturday, an earlier one at 7.30pm followed by the extended fireworks show at 10.30pm.

You can buy tickets for the tattoo here:

Edinburgh tattoo tickets
TV & Streaming
There is live coverage of the Edinburgh Tattoo shown of television each year by the BBC, we will provide the schedule of the TV shows once they're available, but as with all BBC programming you can now also watch online:

BBC live stream

There is also a live webcam feed set up of the stages outside the castle, bringing live streaming of the show each night:

Tattoo webcam
Hotels and Accommodation
Visiting Edinburgh in August is an expensive business as you have the mixed delights of school summer holidays, the Edinburgh Fringe festival and of cours the Tattoo all taking place at the same time. This makes advance booking a necessity.
Some of the more reasonable accommodation options are to be had in student halls of residence, if you don't mind forgoing some of your creature comforts.
You can check availability and make reservations for local hotels here.
Reviews & Sharing
Page content by Martin Kerrigan. If you have found the content on this page useful then please feel free to share it with your friends and family, or if you have any information or updates that might be useful for us to add to the page then please contact us