Paris Fashion Week 2017
Live Stream, Runway Schedule, Designers, Videos
Paris, France, 28 Feb - 8 March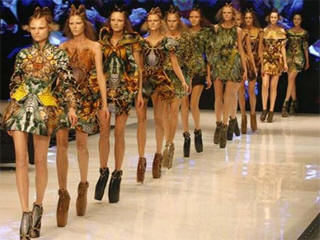 BY YVONNE KERRIGAN
Paris Fashion Week - ou tout le monde est beau!

This month will see the boys sashaying down the prestigious Parisian catwalks presenting to the world what "men" should be wearing this year and, having had a sneaky peak at some of the designs from the summer collections of many of the designers, I wouldn't let my husband outside the door wearing some of those outfits, they're sparklier than mine.

When did menswear stop catering for "Men", the type who go to work in a sharp suit (not a pair of skinny pants in sight) who watch footie with their mates on a Saturday (sans sparkly Jumper), who roam supermarkets in shoes not espadrilles, the men who love watching cricket and refuse to come shopping with their significant others? These are the type of guys I know, yes I see a few that try and keep up with what they think the fashion world wants them to wear but they end up looking really quite daft and uncomfortable, tshirts that look 3 sizes too small because many men don't have the envious physique of Lars Burmeister or the chiseled jaw of Sean O'Pry, trousers that stop the blood flow beneath the knee but loose, baggy and hanging on their derrieres - what exactly is going on?

But that's not to say that you can't get some real fashion inspiration, where you can imagine the man in your life turning up wearing a Hugo Boss Ensemble, looking all Ryan Reynolds Chic ready to whisk you away for a night out in Gay Paree, that's when fashion gets it right.

We also have the Haute Couture Collections to look forward to as well with some beautiful collections from Elie Saab, some futuristic (albeit strange) collection from Iris Van Herpen (had a look on the website and there's a model from the Hybrid Holism collection that looks a little like the tin man from Wizard of Oz, again like the men's collection, where would a lass where such an outfit?) and the piece de resistance for me would be Jean Paul Gaultier's Haute Couture Collection, by far my favourite for ladies Haute Couture and loved, loved, loved last year's sparkling hair pieces, they looked stunning, so looking forward to seeing what comes up in the new collection.
Event Schedule
2017 schedule to follow...
TV & Live Streaming
Each year we are seeing more of the big fashion shows being streamed live online, with the main highlights also being later updated on popular video sites. The excellent Runway website provides links to all live stream and videos for this event:
You will also find many videos, past and present on Youtube:
Hotels and Accommodation
If you're in Paris for the fashion week events and looking for somewhere to stay you can search for hotels, check availability and make reservations for local hotels here.
Reviews & Sharing
Page content by Martin Kerrigan. If you have found the content on this page useful then please feel free to share it with your friends and family, or if you have any information or updates that might be useful for us to add to the page then please contact us