New York Christmas Tree 2017
Live Stream, Webcam, Dates, Special Guests, Events
Rockefeller Plaza, Manhattan, NYC, New York, dates tbc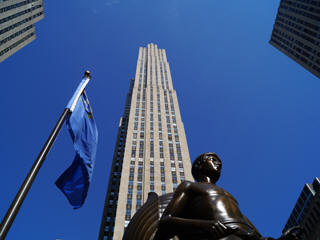 The New York Christmas tree is one of the most iconic sights in a city with no shortage of icons, drawing crowds from across the country and indeed the world to view the huge tree spectacularly lit up in the famous Rockefeller Plaza.

The lighting ceremony itself, taking place at the beginning of December each year, is a pretty big deal, with big names coming out to perform and take a turn at being the one to actually flip the switch. The area around the Rockefeller Center will be packed to bursting, so get there early if you want any kind of view, although as an added bonus they have in recent years started live streaming the whole thing online, see below for details!

It's one thing I've always been keen to see, but visiting New York any time in December can be pretty prohibitively expensive, might have to consider a trip in early January, where once the new year parties are out of the way the hotel prices tend to drop considerably, and you do get up until the 6th of January before they take the tree down.
Event Details
The lighting ceremony date and time for 2017 to follow.
There will be a couple of hours of live performances prior to the actual lights going on, we'll provide more details of who you can expect to see there as soon as we have them.
Social & Streaming
The Christmas tree lighting ceremony has in recent years been live streamed via Youtube, on a link which stays live throughout the duration of the festive period. We'll have the link here as soon as it is avallable.
Latest: The lightign ceremony will be shown live on NBC, with an online streaming option also available. Please note you will need an active subscription to a supported cable network to allow you to watch online:
Hotels and Accommodation
New York in December is crazy expensive and very busy, so get your bookings made as soon as you can. Prices do drop in January, so maybe catching the last couple of days of the tree is a possible budget option.
You can check availability and make reservations for local hotels here.
Reviews & Sharing
Page content by Martin Kerrigan. If you have found the content on this page useful then please feel free to share it with your friends and family, or if you have any information or updates that might be useful for us to add to the page then please contact us