Big Day Out 2015
Streaming, Lineup, Tickets, Dates, Reviews
Sydney, Melbourne, Gold Coast, Adelaide, Perth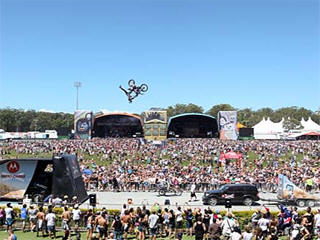 At a time of year when most people have yet to give much thought to any upcoming music festivals (largely due to being too busy huddling by the fire or scraping ice off their car!) we need to look down under for our live musical entertainment, and Australia delivers big time with the Big Day Out festival, which is actually a series of festivals with the same (or very similar) lineup playing across several venues and different dates.
I have to confess that when I spent a year in Australia back in 1996-97 I hadn't even heard of the Big Day Out, and had to check that it was even taking place that far back, but it seems it has been an annual event since 1992 so I guess I just completely missed the boat!
It's a shame as I can think of few nicer venues, and weather conditions, in which to take in a festival, with the Gold Coast location at Surfer's Paradise looking like an especially fantastic venue. I console myself that I did manage to take in the Crowded House Farewell to the World concert, which was held live at Sydney Opera House and remains the most dramatic location I've enjoyed live music at, ever.
So the venues have varied slightly from year to year, with Auckland taking part right up until 2012, but this year the core venues remain as Sydney, Melbourne, Perth, Adelaide and the Gold Coast. See below for the exact dates at each location, and any lineup variations. There is a possibility that this will be the last year at the current Gold Coast venue, as the Parklands Showgrounds that host the BDO are rumoured to be due to converted to an athletics venue for the 2018 Commonwealth Games.
Festival Lineup
The 2015 Big Day Out festivals have been CANCELLED.

There is the possibility of a return in 2016, we'll let you know as soon as we do.
TV & Live Streaming
We've been able to find little in the way of live online streaming for the Big Day Out events. There is however an official Youtube channel, which has event previews and uploads the best of the live sets afterwards:
The Gold Coast Big Day Out was streamed live on local radio last year, so we can probably expect the same again, and they have an online stream to listen to:
Triple J have also announced they will be live streaming the Red Hot Chili Peppers' set from the Sydney BDO - details of that plus any other sets they decide to broadcast (subsequently confirmed as included are Every Time I Die, Band of Horses, Against Me!, Grinspoon and Vampire Weekend) are available on their official site:
Hotels and Accommodation
As each venue only holds the festival on a single day, there is no official camping at any of the Big Day Out sites, so if you're travelling to a venue you'll need to make accommodation arrangements elsewhere. You can search for hotels, check availability and make reservations for local hotels here.
Reviews & Sharing
Page content by Martin Kerrigan. If you have found the content on this page useful then please feel free to share it with your friends and family, or if you have any information or updates that might be useful for us to add to the page then please contact us