Coachella 2017
Live Stream, TV Coverage, Lineup, Dates, Set Times
Empire Polo Club, Indio, California 14-16 & 21-23 April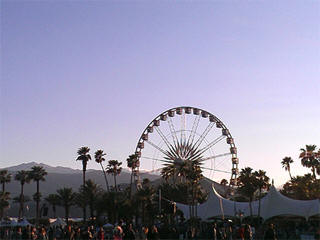 Coachella, or to give it the full title Coachella Valley Music and Arts Festival, is one of the first major music festivals of the year, taking place in Indio, Southern California, one of the few places that can sanction an outdoor festival as early as April each year.
This festival can be regarded very much as an early adopter when it comes to new innovations on the festival front - they were one of the first to take their event over 2 weekends to fit in twice as many fans (and double the revenue of course!) and then in 2012 become one of the first major music festivals to embrace the new high speed internet that was finally becoming more widely available by streaming the whole event live online via their own official Youtube channel, something that would have been almost unthinkable just a couple of years earlier (see further down the page for the live stream link)
In terms of facts and figures, Coachella has been taking place sine 1999 and has set a few recent records. In 2012 not only did they sell out all their tickets in record time (less than 3 hours!) but they also attracted a record high attendance of 85,000 each day, which equates to over 250,000 over the 3 days, and in excess of half a million when counted over both weekends. Incredible numbers really.
Festival Lineup
Full Coachella 2017 lineup and set times to follow
TV & Live Streaming
This year Coachella live streaming coverage is being provided by broadcast partner Livelist, who also offer the option on an embedded media player that allows you to watch the festival right here on My World Events, visit our Coachella live stream page here:
The Coachella festival is also streamed live online via their own official Youtube channel, with extensive clips of the main performances also uploaded as recorded streams, meaning you really don't have to miss a single thing:
Hotels and Accommodation
The Coachella festival is one that still embraces the good old fashioned tradition of camping, with a massive onsite campground. See the official site for full details: Coachella Camping
If you prefer a bit more comfort, or need somewhere to stay before or after, then you can search for hotels, check availability and make reservations for local hotels here.
Reviews & Sharing
Page content by Martin Kerrigan. If you have found the content on this page useful then please feel free to share it with your friends and family, or if you have any information or updates that might be useful for us to add to the page then please contact us