EDC Las Vegas 2017
Live Stream, Webcast, Lineup, Set Times
Electric Daisy Carnival, Las Vegas Motor Speedway, LVMS, Las Vegas Boulevard, 16-18 June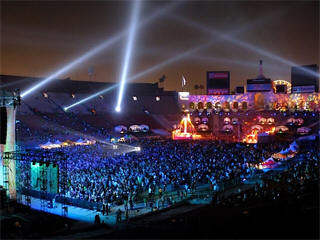 As the music festival phenomenon that is the Electric Daisy Carnival (EDC to it's friends, the full title is something of a mouthful!) spreads around the globe with versions now taking place in locations as diverse as London, New York, Puerto Rico, Chicago and Orlando the iconic event for me remains the incarnation in Las Vegas, which I think holds the added glamour that some of the other locations have lacked.
I think it's something to do with the appeal of the desert location and the famous Las Vegas party reputation, with the casinos on The Strip being one of the most instantly recognisable locations anywhere in the world. If you're going to go to a festival then it's nice if you can visit a location where there are other attractions away from the music, and in Vegas you have hat in absolute abundance.
The location for the actual event is the Las Vegas Motor Speedway, or LVMS, which is actually located around 15 miles north of The Strip and primarily used, as the name suggests, for motor sports, but with 1200 acres of space it's ideally suited for a large festival and in previous years the EDC in Las Vegas has been attended by up to a third of a million visitors - a genuinely staggering amount!
Festival Lineup
EDC Vegas 2017 lineup is now available here:
TV & Live Streaming
In previous years the EDC from Vegas was streamed live in a webcast by Yahoo and also shown on Livelist. The live stream webcast this year is provided by Red Bull TV:
One of the best ways to keep up with the action is the Insomniac mobile app, which includes set times, a Headliners Wall, Twitter feed and official Youtube uploads
Hotels and Accommodation
If you're in Las Vegas for the Electric Daisy Carnival and searching for somewhere to stay then there is the usual eclectic range of Vegas casinos and hotels to choose from. You can search for hotels, check availability and make reservations for local hotels here.
Reviews & Sharing
Page content by Martin Kerrigan. If you have found the content on this page useful then please feel free to share it with your friends and family, or if you have any information or updates that might be useful for us to add to the page then please contact us