Leeds Festival 2017
Live Stream, Lineup, Set Times, Dates, Tickets, Schedule
Bramham Park, Leeds, West Yorkshire, 25-27 August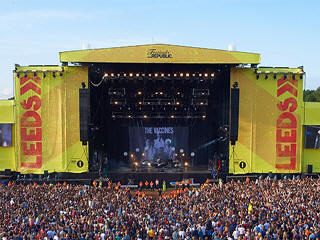 OK, at this stage I have something of a confession to make - I actually lived in Leeds for a little over 10 years but never made it to the Leeds Festival in all that time. In my defence the event didn't actually start until 1999, but that still left me a good 4 years to attend which I passed up on.
Perhaps it was the lack of appeal of attending a festival so close to home, or maybe I just assumed that it would always be there and I would make it one day (I did move away from the area at relatively short notice) but whatever the reason it remains as a gap on my bucket list. I did make it to the Heineken Music Festival in Roundhay Park back in 1995, which has the distinct advantage of being within walking distance of my house!
The Leeds festival then has been going for nearly 15 years now, and continues to grow in popularity, tickets usually selling out the same day they go on sale. One small point of order, the Bramham Park venue is actually a lot closer to Wetherby than Leeds but I guess it was felt that name wouldn't have quite the same appeal...
Festival Lineup
The main stages once more are the Main Stage, the NME/BBC Radio Stage and the BBC Music Introducing stage.
Headline acts this year include Kasabian, Bastille, Eminem, Korn, Muse, Blossoms and Liam Gallagher.
Full lineup for the 2017 Leeds Festival is here
TV & Live Streaming
The live streaming coverage from the Leeds festival has improved markedly in recent years, with the BBC making use of their additional digital channels as well as the red button and iPlayer to cover more of the acts from the main stages in particular.
We now have a dedicated page to bring together all the live coverage from both Leeds and Reading, including the live stream options, good old fashioned TV coverage and the iPlayer webcast feed times and acts covered. See all the latest of the live streaming availability this year here:
Reading and Leeds live streaming
Hotels and Accommodation
If you're planning on being in the Leeds area for the festival there are plenty of local hotels and bed and breakfast guest houses to choose from. You can check availability and make reservations for local hotels here.
Reviews & Sharing
Page content by Martin Kerrigan. If you have found the content on this page useful then please feel free to share it with your friends and family, or if you have any information or updates that might be useful for us to add to the page then please contact us