Stagecoach 2017
Live Stream, Lineup, Set Times, Tickets, Reviews
Empire Polo Club, Indio, California 28-30 April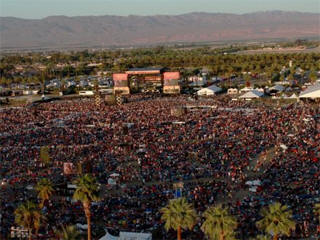 The festival season in the sunny climes of Southern California is in full swing by the time mid-April arrives, and following hot on the heels of the Coachella festival over the previous two weekends comes it's country cousin, the Stagecoach Music Festival.
I have to confess I'm something of a closet country music fan, think it originates from dozens of long car journeys as a child listening to the parents' old country classics - Perry Como, Kenny Rogers, Tammy Wynette and the like, which brings back plenty of pleasant associations of long endless childhood summers and family holidays. Suffice to say if I was in Indio in April and had to choose between attending Stagecoach and Coachella then this is probably the one I would go for. Don't tell anyone!
Stagecoach has been running for several years and has grown each year since it's debut in 2007 and now attracts over 55,000 visitors, a significant percentage of who choose to bring their RV's and make a weekend of it at the campground. For me this adds massively to the appeal - I'm a big fan of camping and the added comfort of a big old RV just adds to the attraction - can see myself happily enjoying a (vegan of course) barbeque while watching the sunset at the campground before heading off to enjoy the music with a beer or three.
I would especially love to hear reviews from anyone who has been to this one, so if you've been lucky enough to go in the past then please use the form at the bottom of this page to let us know if this festival is as good as we're imagining!
Festival Lineup
Full 2017 Stagecoach festival lineup is as follows:
Friday
Dierks Bentley, Cole Swindell, Randy Houser, Jerry Lee Lewis, Maddie & Tae, .38 Special, Elle King, The Zombies, Rhiannon Giddens, Randy Rogers Band, Son Volt, William Michael Morgan, Justin Townes Earle, Anderson East, John Moreland, Dylan Scott, The Blasters, Drew Holcomb & the Neighbors, The Cactus Blossoms, Quiet Life.
Saturday
Shania Twain, Brett Eldredge, Kip Moore, Willie Nelson and Family, Maren Morris, Dan and Shay, Jamey Johnson, Margo Price, Tucker Beathard, Nikki Lane, Robert Ellis, Bobby Bones and the Raging Idiots, Brent Cobb, Steve Moakler, Tommy James and the Shondells John Doe, Traveller, Jonathan Tyler, Brooke Eden, The Walcotts, Ruston Kelly, Aaron Lee Tasjan, Black Pistol Fire, Waddie Mitchell.
Sunday
Kenny Chesney, Thomas Rhett, Tyler Farr, Travis Tritt, Cyndi Lauper, Cam, Los Lobos, The Cadillac Three, Wynonna and the Big Noise, Cowboy Junkies, The Long Ryders, Terry Allen, Steep Canyon Rangers, Cody Johnson, Luke Combs, Kiefer Sutherland, Lanco, Courtney Cole, The Sadies, Dan Layus, Levi Hummon, The Hillbenders Project
TV & Live Streaming
The Stagecoach festival is one of the last we would have expected to be a pioneer in terms of live streaming, but in previous years, perhaps drawing on the technology made available by the Coachella team, they provided a live online webcast via AXS TV
Latest: The 2017 event has announced live streaming audio in association with Pandora. This is currently only available in the USA, Australia and new Zealand:
For radio coverage from the festival check out the local radion statio KFROG, which is also available as a live online feed:
Hotels and Accommodation
Based at the extensive Empire Polo Club the Stagecoach festival encourages camping in much the same way as Coachella, but draws on it's country roots in a way it's sister festival doesn't with a huge influx of RV's to the festival camping site. See the official site for full details: Stagecoach Camping
If you prefer a bit more in the way of home comforts, or need somewhere to stay before or after the festival, then you can search for hotels, check availability and make reservations for local hotels here.
Reviews & Sharing
Page content by Martin Kerrigan. If you have found the content on this page useful then please feel free to share it with your friends and family, or if you have any information or updates that might be useful for us to add to the page then please contact us