Atlanta Caribbean Carnival 2017
Live Stream, Parade, TV, Events, Dates
Atlanta, Georgia, 27 May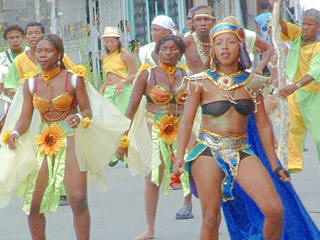 The Atlanta Caribbean Carnival is one of the largest annul festivals in Atlanta, taking place around Memorial Day weekend each May and drawing out large crowds for a colourful weekend of live music, Caribbean style food and entertainment, culmination in a hue and lively and street parade on the Sunday.

The event covers most of the traditional Caribbean Carnival bases including of course the parade, but also a J'Ouvert event the night before. The local bars and clubs get in on the act too, with Caribbean themed music and parties throughout the carnival, making this a great time to visit the city.
You can see our full range of live coverage of mardi gras and carnival events around the world here: Watch Mardi Gras live
Carnival Dates, Events, Parade
The main events of the Atlanta Caribbean carnival this year are:

26 May: Atlanta Carnival J'Ouvert at 2569 Stone Mountain, Lithonia Rd, 11pm -7am
27 May: Atlanta Caribbean Carnival and Parade, Historic Fourth Ward Park, from 1pm

The parade takes place from 12 noon until 3pm. Parade assembly is on Pine Street from Piedmont Avenue to Central Park Place, see a map of the parade route here:

Carnival parade map
TV & Streaming
There is excellent live streaming coverage of the Atlanta Caribbean Carnival, including the parade via Come See TV:

Atlanta carnival live stream
Hotels and Accommodation
Atlanta is a great city to visit, and May is one of the better months before the summer heat really kicks in. Accommodation tends to be reasonably priced too.
You can check availability and make reservations for local hotels here.
Reviews & Sharing
Page content by Martin Kerrigan. If you have found the content on this page useful then please feel free to share it with your friends and family, or if you have any information or updates that might be useful for us to add to the page then please contact us