Chicago Memorial Day Parade 2017
Live Stream, TV, Route, Schedule, Start Time
Eternal Flame, Daley Plaza, Chicago, Saturday 27 May, 12 noon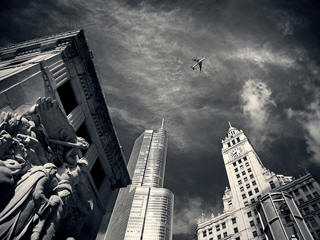 Memorial Day in the United States is a day specifically set aside to remember those who have given their lives protecting the nation while serving with the country's armed services in conflicts across the years.
The day is marked by parades large and small in villages, towns and cities across the US with the largest being in Washington DC, New York City and here in Chicago.

The Chicago Memorial Day parade has been on the annual calendar since way back in 1870 and typically takes place on the Saturday immediately preceding Memorial Day itself and also incorporate a wreath laying ceremony just before the parade starts.
There are large crowds that line the parade route to pay their respects and the parade is also usually broadcast live on the local TV network (see below for details and how to watch) to make it possible for those who can't make it in person to still watch the event.
Route and Schedule
The wreath laying ceremony takes place at 11.00am at the the Eternal Flame on Daley Plaza, located at Dearborn and Washington.

The parade steps off at 12 noon, and follows a very straightforward route, heading south down State Street from Lake Street to Van Buren Street.
TV & Live Streaming
In previous years the Chicago Memorial Day parade has also been broadcast live by local TV channel ABC 7 Chicago so we would expect to see the same again this year.

This channel is also available as a live online stream that you can watch here:

ABC Chicago live stream
Hotels and Accommodation
If you're in Chicago for Memorial Day weekend then there will be plenty of places to stay, and this is one of the more reasonable times of year price wise so the visit shouldn't break the bank either. You can search and check availability for local hotels here.
Reviews & Sharing
Page content by Martin Kerrigan. If you have found the content on this page useful then please feel free to share it with your friends and family, or if you have any information or updates that might be useful for us to add to the page then please contact us