Chicago Thanksgiving Parade 2018
Live Stream, Lineup, Route, Start Time, Viewing Points
State Street, Chicago, Illinois, 22 November, 8.00am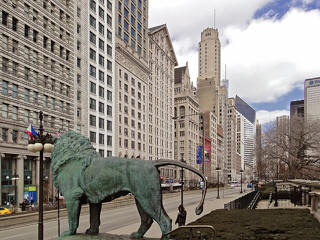 The Chicago Thanksgiving Parade is one of the largest parades taking place on Thanksgiving day each year in the United States.
Currently officially known as the McDonald's Thanksgiving Parade due to the association with the current sponsor the parade has been taking place on the city's famous State Street since back in 1934, and has continued to grow over the years, supported by a variety of different sponsors.

Particular features of this parade include large helium filled balloons that lead off the parade, most notable that of official parade mascot Teddy Turkey.
The parade also includes marching bands, dance groups, local sports teams, equestrian groups and around 100 floats. Movie fans might remember this parade from it's appearance as the State Street Thanksgiving Parade in the Nicolas Cage film The Weather Man.
Route and Schedule
The parade route is very straightforward, starting at 8.00am it progresses down State Street from Congress Parkway to Randolph Street.

The duration of the parade is typically around 3 hours, with the main event coming to a close by 11.00am.

In terms of viewing points, the best advice is to get there early to secure a decent spot, with total viewer numbers estimated at up to half a million, people generally start arriving around 6am. Popular areas tend to be on the eastern side of State Street, in between Congress Parkway and Harrison, and on one of the corners of State Street and Van Buren.
TV & Live Streaming
The McDonald's Thanksgiving parade is one of the most widely watched in the United States, thanks in large part to the TV broadcast by Chicago channel WGN Channel 9. This channel have also for several years now been live streaming the parade, allowing viewers to watch online from around the country, or indeed in the apparent absence of any geo-blocking, anywhere in the world:

Chicago parade live stream

Another viewing option you might like to consider for a different perspective on the parade is to check out some of the live streaming webcams in the area. There are several in excellent positions, including at Macy's right on State Street:

Chicago webcams
Hotels and Accommodation
If you're in Chicago for Thanksgiving then be aware that it is a chilly time of year so plan accordingly. The local hotels do get busy for this period so you will need to make your reservations as far is advance as possible to get the best prices. You can search and check availability for local hotels here.
Reviews & Sharing
Page content by Martin Kerrigan. If you have found the content on this page useful then please feel free to share it with your friends and family, or if you have any information or updates that might be useful for us to add to the page then please contact us