Chingay Parade 2018
Live Stream, Events, Schedule, Tickets
F1 Pit Building, Singapore, 23-24 February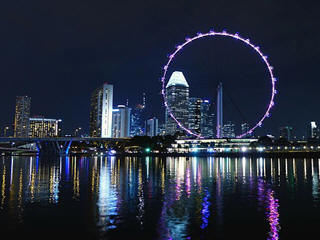 The Chingay parade is the main focus of the annual Chinese New Year celebrations in Singapore, bringing huge crowds down to the Marina Bay area for a month long party of special events, displays and festivities, culminaion in the 2 days of the parade itself.
There are also large Chingay events in Penang and Johor Bahru but the Singapore celebration, although more recent, is probably now the best known, and people travel from around the world to watch the Singapore Chingay Parade, with many also helping out as the volunteers that are so crucial to the success of the event.
Event Details
The Chingay parade takes place over 2 nights on the 123rd and 24th February at the F1 Pit Building, located next to the iconic Singapore Flyer. The schedule of events for each of the nights is as follows:
6.30pm Admission starts
7.00pm Pre Parade
8.00pm Main Parade starts
8.00-9.30pm Laser Show
You will need to buy your tickets for the parade in advance - you can purchase your online here.
There is also then a Chinatown Night Fiesta held on Sunday 12th February.
Webcams & Streaming
There has been live online streaming coverage of the Chingay parade in previous years so we would expect to see the same again this time around.
Coverage details for 2017 are now available on the official event website here:
There are also several live webcams that offer excellent views from in and around Singapore that can help give an excellent additional perspective on the celebrations:
Hotels and Accommodation
If you're staying in Singapore around the time of the Chingay Parade and Chinese New year celebrations then you'll need to be aware that hotel prices will be at a premium so we strongly advise booking well in advance.
You can check availability and make reservations for local hotels here.
Reviews & Sharing
Page content by Martin Kerrigan. If you have found the content on this page useful then please feel free to share it with your friends and family, or if you have any information or updates that might be useful for us to add to the page then please contact us