Cleveland St Patrick's Parade 2017
Live Stream, Lineup, Route, Start Time, Schedule
Cleveland, Ohio, 17 March, 1.04pm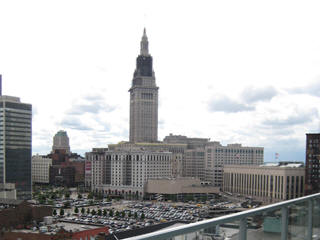 The Cleveland St Patrick's day parade is recognised as the largest in the state of Ohio, attracting an audience of an estimated half a million out onto the city's streets to witness the spectacle. This is another parade that, unlike many of those across the US, takes place annually on St Patrick's day itself, the 17th March, making it a very common day for the city's residents to try and get some time off work!

In terms of the parade itself, there are around 10,000 active participants, marching in well over 100 different groups or units. You can see a listing of some of the main parade sections below. The Cleveland parade also enjoys the distinction of being one of the oldest St Patrick's day events in the country, tracing it's origins way back to 1867. Local traditions that have developed over the years include the nomination of a Grand Marshall to oversee the parade and the recognition of a Mother of the Year.

St Patrick's Day does of course also revolve around generous consumption of alcoholic beverages and Cleveland is blessed with a number of top quality Irish bars to help facilitate this process. Top venues to look out for are The Flat Iron Cafe, The Harp, Flannery's Pub, PJ McIntyre's Irish Pub and Parnell's pub.
Route, Lineup, Schedule
The parade starts at the intersection of Superior Avenue and East 18th Street and the route is as follows:

Superior Avenue
East Roadway
Rockwell Avenue, ending at East 3rd Street.

The parade lineup for St Pat's in Cleveland to follow.
Live Streaming, Webcams
If you would like to watch the Cleveland St Patrick's Day parade live then it is being broadcast on TV by City of Cleveland Time Warner channel 20. Unfortunately this is only available to those living in the area.
Latest: The Cleveland St Patrick's Day parade will be streaming live online here, courtey of WKYC:
WKYC live stream

There is however a recorded stream of the parade that will be made available after the event on the City of Cleveland's website, so you can catch up with anything you might have missed:

Parade stream

It can also be fun to check out some of the local webcams on parade day, giving unique views of events in and around the city during the St Patrick's day celebrations:

Cleveland webcams
Hotels and Accommodation
If you're heading to Cleveland or the surrounding areas for the St Patrick's day parade then as expected the local hotels do get booked up quite early, so booking as far as you can in advance is recommended.
You'll find a full range of accommodation to choose from, search and check availability for local hotels here.
Reviews & Sharing
Page content by Martin Kerrigan. If you have found the content on this page useful then please feel free to share it with your friends and family, or if you have any information or updates that might be useful for us to add to the page then please contact us