Crop Over 2017
Live Stream, TV, Events, Lineup, Dates
Barbados, 6-7 August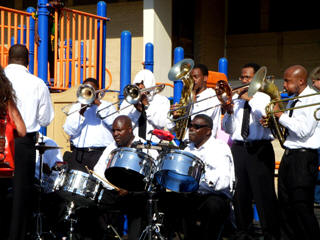 The Crop Over festival in Barbados' version of the Caribbean Carnival, bringing several months on entertainment in the form of parties, live music, dancing and parades to the streets of this popular Caribbean Island, culminating in early August with 2 main events that bring out the largest crowds.
The biggest events are the main attractions and draw the biggest crowds - the Heritage Parade Barbados and the fantastically named Crop Over Festival Grand Kadooment, which draws the festival to a close with a parade of costume bands and a spectacular fireworks display.

Crop Over was originally known as Harvest Home and as the name suggests draws its origins from the harvest period, which in Barbados case was centred on the many sugar plantations that were based here during the island's colonial period. The focal point of the Crop Over celebrations is the famous Calypso music, and local bands compete vigorously for the festival's prestigious Calypso Monarch Award. Elsewhere there is the competition to be crowned the Party Monarch King or Queen, the sounds and smells of Caribbean cuisine at the Bridgetown Market Street Fair.
You can see our full range of live coverage of mardi gras and carnival events around the world here: Watch Mardi Gras live
Event Details
The main dates to look out for at the Crop Over festival are:

3 Aug: Bucketfest
4 Aug: Bridgetown Market Opening
4 Aug: Foreday Morning Jam
5 Aug: Pic-o-de-Crop Finals
5 Aug: Emancipation Day Walk
6 Aug: Cohobblopot
6 Aug: Heritage Parade Barbados
7 Aug: Grand Kadooment
Social & Streaming
Unlike many of the Caribbean festivals there does appear to be a good chance of seeing some live streaming from the Crop Over events in Barbados, especially for the main parade days in August.
Live streaming this year is being provided by CBC online, although this is on a PPV basis so you will need to pay to watch(we have no connection or financial interest in this site)
Crop over live stream

There are also regular updates on live streaming options on this Facebook page:

Crop Over TV

And there is of course the usual social media coverage, with regular updates available on events and parties via the Crop Over Facebook page.

We'll keep you updated on any other live viewing or listening options that we locate, there is a good chance in particular of some of the local TV and radio stations picking up the big events.
Hotels and Accommodation
If you're visiting Barbados during the Crop Over festival then there is plenty of accommodation to choose from, but the sumer months in particular will get very busy so we strongly recommend making your reservation well in advance.
You can check availability and make reservations for local hotels here.
Reviews & Sharing
Page content by Martin Kerrigan. If you have found the content on this page useful then please feel free to share it with your friends and family, or if you have any information or updates that might be useful for us to add to the page then please contact us