FA Cup Victory Parade 2017
Live Stream, Route, Date, Start Time, Schedule
Venue, Time and Date TBC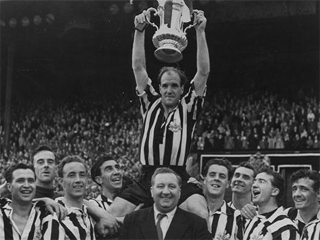 The magic of the FA Cup is something I've experienced in very small doses as a Newcastle United fan - I have been fortunate to travel to 2 finals at Wembley in the late 1990's but sadly on both occasions we came up against teams bang in form and were easily defeated. Nothing since then sadly, but I live in hope.
The last time my team won this thing was way, way back in 1955, and the image at the top of this page is from then, giving an insight into exactly how long the wait has been. So why include a page on this site for a victory parade that I have never actually experienced? Call it a triumph for optimism over experience!
One day surely our time will come, although it is becoming much harder as the same cabal of top teams use their financial hegemony to dominate the sport's main prizes.
In the meantime I'll have to settle for vicariously watching others enjoy the success I crave.
Route and Schedule
Parade details to follow, once we know who has won.
TV & Live Streaming
There will almost certainly be live coverage of the parade on radio, TV and online, we'll add the links here as soon as we have them.
For TV coverage, the 24 hours news channels are probably your best bet - Sky Sports News will be there for sure, but for an online option BBC News 24 is a decent bet:
There's also a veritable plethora of coverage from past winner's parades in video form on Youtube:
Hotels and Accommodation
If you're in the area for the FA Cup victory parade and looking for somewhere to stay, you can check out availability and make reservations for local hotels here.
Reviews & Sharing
Page content by Martin Kerrigan. If you have found the content on this page useful then please feel free to share it with your friends and family, or if you have any information or updates that might be useful for us to add to the page then please contact us