Jamaica Bacchanal 2017
Road March, Parade Route, Events, Dates, Times
Kingston, Jamaica, 15 - 23 April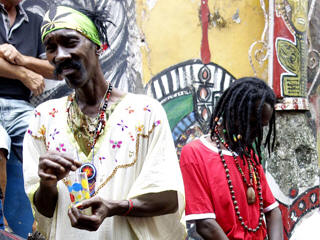 Bacchanal in Jamaica is the famous Caribbean island's version of the carnival events that take place across the world throughout the year, most notably the Trinidad and Tobago Carnival that draws huge crowds to the Port of Spain each year. In Jamaica, the capital of Kingston is the focal point of the celebrations, with a number of carnival events leading up to the Road March which is the climax of the celebrations, taking place around Easter time each year.

Jamaica Bacchanal has been taking place since 1989, making it a relatively recent addition to the Caribbean's thriving carnival scene, but it continues to grow in popularity each year, drawing a cavalcade of music, costumes and colour out onto the streets of Kingston for a party that lasts for several weeks.
Event Schedule, Parade Routes
The main events schedules for this year are:
15 April: Beach Jouvert at James Bond Beach
19 April: Pre-Mas Revellers Fete
21 April: Bacchanal Jouvert and Road March
23 April: Bacchanal Road Parade

You can find a map of the parade route for the Bacchanal Road March here.
TV & Live Streaming
There isn't a great deal of live coverage available for the Bacchanal in Jamaica as yet, although there is likely to be local radio and TV stations at the road march ar the very least. We'll post any live stream links we manage to find right here.

The official site do have a very good video section however, so at the very least you should be able to catch up with the main events after the event:

Bacchanal videos
Hotels and Accommodation
If you're in Jamaica for any of the Bacchanal events then as always it is advisable to make your reservations well in advance.
You can check out availability and make reservations for local hotels here.
Reviews & Sharing
Page content by Martin Kerrigan. If you have found the content on this page useful then please feel free to share it with your friends and family, or if you have any information or updates that might be useful for us to add to the page then please contact us