Junkanoo 2017
Live Stream Parade, Start Time, TV Coverage, Schedule
Nassau, Bahamas, 26 December 2016 and 1 January 2017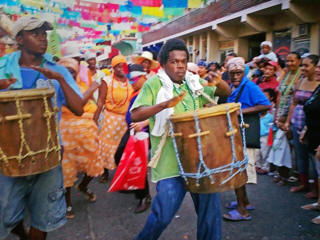 Junkanoo is a peculiarly Caribbean new years tradition in the Bahamas, with parades taking place in capital city New Providence every boxing day and new year's day, bringing a cavalcade of colour, music and dancing to the streets.
The origins of the tradition can be traced as far back as the 17th century, and the modern version tries to retain as many of the customary features as possible, especially in the costumes that are worn.

As a wider tradition you will find Junkanoo events in various places around the world and at different times of year, basically anywhere with a strong Caribbean influence may well choose to jump on the Junkanoo bandwagon. Notable events worth checking out are those in Miami and Key West, where there is a strong Bahamian heritage for much of the local populace.
Parade Route, Schedule
Parade lineup and schedule to follow.
TV & Live Streaming
The Bahamas Local website is advertising a live stream for this event here:
Although we do have some doubts as to whether this will run live on the day as the last archived video on the site is from 2010 - we will keep an eye on it though and update as appropriate. If that doesn't work the closest we can get is a Nassau webcam feed, but the location is a beach view so unlikely to capture too much parade activity.
It's probably also worth trying out the ZNS Bahamas network, which also has a live stream and has been carrying regular updates about the Junkanoo parade:
Hotels and Accommodation
If you're in the Bahamas over the New Year period and looking for somewhere to stay to attend any of the Junkanoo events you can check out availability and make reservations for local hotels here.
Reviews & Sharing
Page content by Martin Kerrigan. If you have found the content on this page useful then please feel free to share it with your friends and family, or if you have any information or updates that might be useful for us to add to the page then please contact us