Las Fallas 2017
Live Stream, TV, Events, Schedule
Valencia, Spain, 1-19 March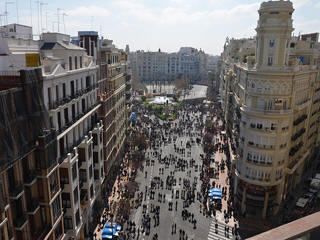 Las Fallas, also known as The Falles or Festival of Fire, is a festival held in the Spanish city of Valencia March with the aim of welcoming in the spring season.
The festival hosts a series of key events (see the schedule below) but could in the main be best described as a giant street party, lasting for several weeks!

Fireworks displays and firecrackers, known as Mascleta, are a key part of the Fallas celebrations, taking place each day throughout the festival in the city's famous Placa de l'Ajuntament, while the climax of the festival, which falls on the 19th March is Cabalgata del Fuego, or the Fire Parade, followed by La Crema, or The Burning, which sees a large bonfire attended by huge crowds, with smaller versions also held at sites across the city.
Event Details
The main schedule for Las Fallas in 2016 is as follows:

1-19 March: Mascleta firecracker display in Plaza del Ayuntamiento, every day at 2pm
15-16 March: La Planta, construction of the Fallas sculptures or monuments
15-19 March: Nightly fireworks displays, crowds gather on the Paseo de la Alameda
18 March: Nit del Foc, or Night of Fire, the largest fireworks display, held in the early hours of the morning
17-18 March: Ofrenda de Flores, or Offering of Flowers, a parade to the Plaza de la Virgin to offer flowers to Our Lady of the Forsaken, starts at 4pm
19 March: La Crema, or The Burning, all of the festival sculptures, the last being in the Plaza del Ayuntamiento at 1am
Live Streaming, Webcams
In previous years finding coverage of Las Fallas either on TV or online has been a tricky endeavour, but for 2016 there is actually some live coverage available.

The main coverage will be by Spanish television channel RTVE, who are screening live both La Crida and several of the mascleta events, most notably on March 19. You can watch RTVE online here:

RTVE live stream

There is also a TV Fallas site available, showing video of all of the Mascleta events, although it would seem with a slight delay rather than fully live:

TV Fallas

Another often overlooked online viewing option is to check put some of the local live streaming webcam views, there are are several in and around Valenica, giving a unique perspective on life in the city during the festival:

Valencia webcams
Hotels and Accommodation
Hotel accommodation in Valencia is for the most part very reasonably prices compared to some of the more touristy Spanish cities, there will be a surge in popularity during Las Fallas but you shouldn't have too many problems finding somewhere to stay.
You can check availability and make reservations for local hotels here.
Reviews & Sharing
Page content by Martin Kerrigan. If you have found the content on this page useful then please feel free to share it with your friends and family, or if you have any information or updates that might be useful for us to add to the page then please contact us