Mardi Gras 2018
Live Stream, TV, Parade Schedule, Dates, Start Time, Lineup
NOLA, New Orleans, Louisiana, 13 Feb (Main parade)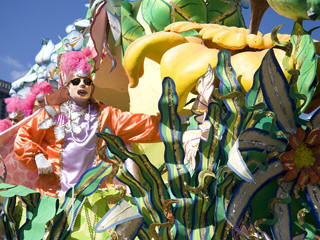 Mardi Gras returns once again to New Orleans, with a cavalcade of colourful parades leading up to the climax of the carnival season on Fat Tuesday, which this year falls on the 13th February.
The name Mardi Gras is actually French, literally translated as Fat Tuesday, and derived from the tradition of clearing your larder of fatty foods (by eating them all!) prior to starting the fasting of lent, and this has created the reason behind Mardi Gras - basically one last big blowout before you have to get down to some serious abstinence. Now I'm not sure how much lenten observance has survived in the 21st century, but when it comes to the party preceding it, then pretty much everyone is still very much well on board!
In New Orleans this translates to a whole carnival season that lasts for weeks, before culminating in the main parade. Canal Street is the main focus of the parade itself, but for most people the main party takes place on Bourbon Street in the famous French Quarter, or Vieux Carre, where the most popular bars are located - names like The Old Absinthe House, Pat O'Brien's and Lafitte's Blacksmith Shop will be turning a roaring trade, while the traditional southern food and hospitality at the local restaurants are an absolute must.
Fat Tuesday Parades
The New Orleans Mardi Gras is actually a whole season of parades in the weeks leading up to the main event, the Mardi Gras parade on Fat Tuesday, 9th February.
The schedule for the main Mardi Gras parades on Fat Tuesday are as follows:
Uptown New Orleans:
Zulu, 8am
Rex, 10am
Elks Orleanians, Follows
Crescent City, Follows
Metairie:
Argus, 10am
Krewe of Elks Jefferson, Follows
Krewe of Jefferson Jefferson, Follows
Covington:
Krewe of Lyra, 10am
You can find the full mardi gras schedule for all of the parades leading up to the main days here.
TV & Live Streaming
There aren't too many problems finding live streaming online and TV coverage of the mardi gras from New Orleans - we'll list all the best sources here.
There are now live streams not just of the main parade day, but many of the other parades leading up to it. Local New Orleans TV station WWLTV in particular have extensive online coverage, including online videos of the main events an an excellent parade tracker app:
There is also a live streaming "Parade Cam", allowing you to watch the events in real time
There are also many live webcam views that bring a unique view on many locations around New Orleans throughout the event, including live feeds on Bourbon Street and in Jackson Square:
You can see our full range of live coverage of mardi gras and carnival events around the world here:
Hotels and Accommodation
Mardi Gras season in New Orleans is very much peak time for the city's hotels and guest houses, especially the old historic buildings in the iconic French Quarter. As such we recommend you reserve your rooms as far in advance as possible.
You can check out availability and make reservations online for local hotels here.
Reviews & Sharing
Page content by Martin Kerrigan. If you have found the content on this page useful then please feel free to share it with your friends and family, or if you have any information or updates that might be useful for us to add to the page then please contact us