Mobile Mardi Gras 2017
Live Stream, TV, Parade Dates, Schedule, Start Time, Webcams
Mobile, Alabama, 28 Feb (Main Fat Tuesday parade)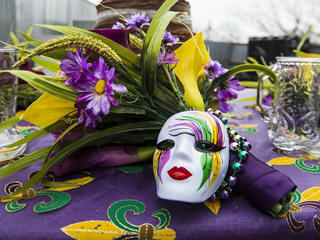 Mardi Gras in Mobile, Alabama is actually the oldest such celebration anywhere in the United States, a fact which usually comes as a surprise as most assume that distinction belongs to the more well known Mardi Gras in New Orleans.
The Mobile event however has been taking place since since way, way back in 1703, more than a decade before New Orleans joined the party.

The Mobile Mardi Gras is focussed on a number of parades that take place over many weeks leading up to a large series of parades on Lundi Gras or Fat Monday, the day before Mardi Gras, and then the main event on Fat Tuesday itself, which actually consists of several different parades throughout the day. The main organisers and participants of the parades are the mysterious Mystic Societies, another tradition that can be traced right back to the very roots of the event.
You can see our full range of live coverage of mardi gras and carnival events around the world here: Watch Mardi Gras live
Parade Schedule, Routes
Mobile takes Mardi Gras very seriously and the events leading up to Fat Tuesday actually start way back in the previous November, but for the sake of brevity we'll restrict the listings on this page to the main parade events. All these listed will be taking place in Mobile unless otherwise stated.

February 26th (Joe Cain Day and Super Bowl)

Loyal Order of the Firetruck in Daphne at 2.29pm
Joe Cain Procession in Mobile at 2.30pm
Le Krewe de Bienville at 5pm

February 27th (Lundi Gras or Fat Monday)

King Felix III, Floral parade at 12 noon
Prichard Mardi Gras Association Parade in Prichard at 1pm
MLK Business and Civic Organization, MLK Monday Mystics, Northside Merchants at 3pm
Order of Mystic Magnolias in Fairhope at 6.45pm
Infant Mystics, Order of Doves at 7pm

February 28th (Fat Tuesday)

Gulf Shores Mardi Gras Association in Gulf Shores at 10am
Order of Athena in Mobile at 10.30am
Knights of Revelry, King Felix III, Comic Cowboys at 12.30pm
Orange Beach Parade in Orange Beach at 2pm
MAMGA Mammoth Parade at 2pm
Order of Myths at 6pm

If you would like to see the full, in depth parade schedule for the entire parade season, along with the main parade routes then they are available online here.
TV & Live Streaming
In recognition if the importance of the Mobile parades on Mardi Gras there is a generally a decent range of live coverage available. In particular in recent years local media group website AL.com have introduced live streaming parade cams for several of the main parades, including all of the biggest events on Fat Monday and Tuesday. This was the link for last year's online coverage, we will check it again this year to make sure it is still live:

Mobile mardi gras live stream
Latest: there will also be TV and online coverage by the Local 15 channel via UTV 44, covering the weeknight parades between 6.45 and 7.30pm and the Grand Parade on Fat Tuesday all day, as well as many of the ealrier parades (schedule here)
UTV 44 online live

There is also City of Mobile webcam located in an ideal position on one of the main parade routes at Conception and Government streets that will be live throughout Mardi Gras:

Mobile webcam
Hotels and Accommodation
Mobile is a welcoming town at any time of year, but especially so during Mardi Gras season, so it is very much recommended to visit during this time. Accommodation prices are very reasonable compared to some of the larger cities where you might find Fat Tuesday parades taking place.
You can check out availability and make reservations for local hotels here.
Reviews & Sharing
Page content by Martin Kerrigan. If you have found the content on this page useful then please feel free to share it with your friends and family, or if you have any information or updates that might be useful for us to add to the page then please contact us