Mummers Parade 2018
Live Stream, TV, Route, Start Time, Lineup
Philadelphia, PA 1 January, 9.00am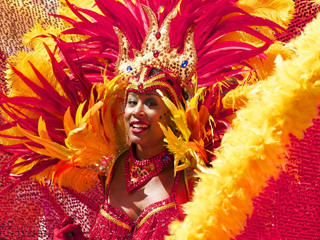 The Philadelphia Mummers parade is a new year tradition on a scale unique to this city, bringing crowds out into the streets to watch a veritable cavalcade of sound and colour as floats, performers and various acts take to the streets to celebrate the start of another new year.

In recent years the Mummers Parade has become available to a much wider audience, with the advent of online streaming providing a viewing platform for people around the world to watch this fascinating spectacle, whether they are Philadelphia expats feeling nostalgic for their home town or just interested viewers looking for something a little different to watch on new years day. Either way, the Philadelphia Mummers parade is an event and sight we strongly recommend.
Route and Schedule
The parade actually changed a couple of years ago, the first modifications in several years. This year's parade will again follow the new route, beginning at 15th and Market near Dilworth Park for the judging prior to moving down to City Hall. The parade will then travel south down Broad Street to Washington Avenue.
The Mummers Parade Order of March for 2017 is below, 2018 version to follow.
Fancy Division

Golden Sunrise

Wench Division

Americans Wench Brigade
O'Malley Wench Brigade
Pirates Wench Brigade
Saints Wench Brigade
Cara Liom Wench Brigade
Oregon Wench Brigade
Bryson Wench Brigade
Riverfront Wench Brigade
Froggy Carr Wench Brigade

Comic Division

Murray Comic Club
Landi Comic Club
Goodtimers Comic Club

String Band Division

Avalon String Band "Mumberjacks"
Duffy String Band "Tune-A-Fish"
Ferko String Band "We Stand as ONE"
South Philadelphia String Band "Awaken the Dragon"
Uptown String Band "Mr. Future"
Pennsport String Band "Tiki Island Jungle Jivin'"
Broomall String Band "Clown town Showdeo"
Durning String Band "Gnome Sweet Gnome"
Hegeman String Band "The Golden Gala"
Aqua String Band "Mine Blown!"
Quaker City String Band "Winter Is Coming"
Fralinger String Band "Spellbinding"
Woodland String Band "Carnival: Primeiro De Janeiro"
Polish American String Band "Villianville UpEvil"
Greater Overbrook String Band "Mum Potion #9"
Greater Kensington String Band "The Band, The Myth, The Legend"

Fancy Brigades

Purple Magic "Speak Easy"
Clevemore Fancy Brigade "Oh Those Places You'll Go"
Avenuers Fancy Brigade "Steam Punk"
2nd Street Shooters Fancy Brigade "The New Fire Ceremony"
Satin Slipper Fancy Brigade "Toys"
Jokers Fancy Brigade "Day of the Dead Celebration"
Golden Crown Fancy Brigade "Raindance"
Spartans Fancy Brigade "Tropical Island, Protectors of the Vibrant Utopia"
Shooting Stars Fancy Brigade "The Phantoms Masquerade"
South Philly Vikings Fancy Brigade "It's All in your Mime"
Downtowners Fancy Brigade "RIO Festival of Animals"
Saturnalian Fancy Brigade "The Gangs of New York"
TV & Live Streaming
The Mummers parade is shown live on TV in Philadelphia via PHL17, with coverage on new year's day starting at 8am with the 2017 SugarHouse Casino Breakfast with the Mummers then followed by the parade itself.
There is a break between 5 and 8pm before coverage returns for the Live String Band Results and the SugarHouse Casino Fancy Brigade Finale, ending at 10pm.
Live coverage is also available online with live streaming provided by the official website - you can watch the Mummers parade webcast feed here:
Hotels and Accommodation
If you're in Philadelphia over the New Year period and looking for somewhere to stay, then the town will be busy so make sure you get your booking made as early as possible. You can check out availability and make reservations for local hotels here.
Reviews & Sharing
Page content by Martin Kerrigan. If you have found the content on this page useful then please feel free to share it with your friends and family, or if you have any information or updates that might be useful for us to add to the page then please contact us