New York Dance Parade 2017
Live Stream, TV, Date, Route, Times, Viewing Points
Manhattan, NYC, New York, 20 May, 1.00pm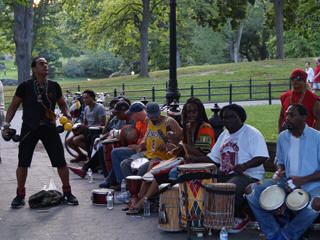 Dance Parade in New York City is one of many annual parades that take to the city's famous streets over the course of the year, including the big events at Thanksgiving, Easter and St Patrick's Day, but few can match the Dance Parade for sheer colour and energy, with the injection of youthful vigour providing a definite highlight of the NYC annual event calendar.

A relatively recent addition to the New York parade scene, the Dance parade has been taking place each year since 2006 and continues to grow each year, with participation free to anyone, you just need to sign up via the official event website if you would like to take part.
The parade itself is only part of the day's partying, once it finished at Tompkins Square Park there is a Dancefest, where free live performances, dance classes and social dance events take place well into the evening.
Route and Schedule
If you would like to take part in this year's Dance parade, you can sign up on the official event website here.

The parade steps off at 1pm from 21st Street and Broadway, goes past Union Square then down University Place. There is a grandstand at University Place and 8th Street, where the parade turns down 8th and heads along to Tompkins Square Park where the Dancefest takes place from 3-7pm.

You can see a map of the parade route here:

Dance parade route
TV & Live Streaming
There is likely to be some TV coverage of the day's events, especially the Dance Parade, via the local news networks, most of which also now include live stream online viewing options, we will post the details here on the day as they become available.
The NYC Dance Parade last year utilised the Give Live streaming broadcast service, allowing people to both watch and contribute online, so hopefully this will be back for the 2017 parade - get the app here:
Give Live app

In the meantime you might like to check out some of the webcam views from the area, there are plenty of live views from cameras across the city, one of the most watched places on the planet:
There is also and official Youtube channel for the Dance parade which includes highlights of previous events, so you can expect to see the main events from this year uploaded pretty soon:

Dance parade videos
Hotels and Accommodation
If you're in New York for the dance parade this year and looking for somewhere to stay there is always a great chocie of accommodation, although be warned Manhattan in particular will be on the steep side. You can search and check availability for local hotels here.
Reviews & Sharing
Page content by Martin Kerrigan. If you have found the content on this page useful then please feel free to share it with your friends and family, or if you have any information or updates that might be useful for us to add to the page then please contact us