New York Easter Parade 2017
Live Stream, TV, Date, Route, Times, Viewing Points
5th Avenue, Manhattan, NYC, New York, 16 April, 10.00am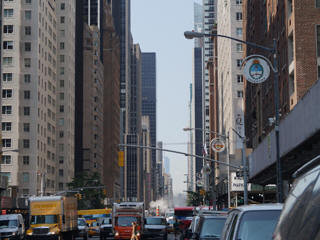 If there's one thing we know about our friends in the United States, and New York City in particular, it's that they love a good parade - they'll crowd the streets at New Year, on Thanksgiving and even St Patrick's Day so it should come as little surprise that when Easter comes around they decide to mark it with - a parade!
There are other cities that have embraced the Easter parade over the years - places like Boston, Philadelphia, Atlantic City, Toronto and New Orleans, but the NYC incarnation of the event is by far the largest, not just in the States, but probably worldwide. This one has been taking place since 1880 and follows a route originally chosen for the spectacular nature of the churches along the way - St Patrick's Cathedral in particular.
The Easter parade in New York is especially noted for it's casual nature - there aren't long lines of extravagantly decorated floats and hundreds of marching bands at this one, it's a lot more informal than the equivalent events you might see on Thanksgiving or St Patrick's Day for instance, but it is this laid-back approach that lend the parade a lot of it's appeal - it's all about the colourful costumes really, very much family friendly and you will see a high number of families with young kids in amongst the crowds.
Route and Schedule
The only really set values for the New York Easter parade are that is starts at 10am, finished around 4pm and takes place on Fifth Avenue, running from 49th to 57th street. It will be crowded all along this route so it is advisable to arrive early, and as it is still early in the year the weather is likely to be on the cool side, so wrap up warm!
In terms of vantage points is is generally acknowledged that the area immediately around St Patrick's Cathedral is the place to head for to get the optimum viewing experience.
TV & Live Streaming
The Easter parade from NYC isn't generally broadcast nationally, but usually will be covered by local TV channels, and as several of those have online viewing options there's a good chance of a live stream - check back nearer the event and we'll post details right here as soon as we have them.
Latest: The best chance for some online coverage seems to be this live feed from ABC7 NY News:
One viewing option that will be available is from the excellent live streaming webcam that is perfectly positioned right on Fifth Avenue, giving a fixed view of the whole parade:
There is also a greater selection on webcams in the central and most popular parts of New York City on our webcams page here:
Hotels and Accommodation
If you're in New York for Easter this year and looking for somewhere to stay there will be a wide range of options in most budget ranges. You can search and check availability for local hotels here.
Reviews & Sharing
Page content by Martin Kerrigan. If you have found the content on this page useful then please feel free to share it with your friends and family, or if you have any information or updates that might be useful for us to add to the page then please contact us