New York Pride March 2017
Live Stream, Route, Rally, Pridefest
Fifth Avenue, NYC, New York, 25 June, 12 noon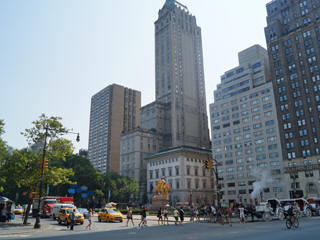 The number of pride events hosted and enjoyed by gay communities across the world has increased exponentially in recent years - you'll find large scale and lively pride parades in global locations as diverse as San Francisco, Sydney, London, Berlin, Las Vegas, Sao Paulo, Miami and Toronto.
One place that tends to top the list when it does anything though is New York, and the NYC Pride festival has now expanded way beyond a simple parade, there is now a whole week of events right across the city, from the rally that kicks everything off to the Pridefest music festival and parties and celebrations in bars and nightclubs all around town.
Route and Schedule
There are a number of events taking place in New York as part of the Pride festival, with the rally representing the culmination of the week's celebrations.
The parade starts at 36th Street and Fifth Avenue, travels down 5th and ends at Christopher Street and Bleecker.
There will be announcers on Fifth at 8th, 25th and 36th, as well as at the parade finish.
Starting at noon, the first participants take a couple of hours to reach the end of the parade route, with the full parade normally completed by 6pm, at which point the party really starts!
TV & Live Streaming
There may well be some live TV or online coverage of the Pride events, the march in particular, so we will be keeping an eye out and post any links we find on here.
Latest: We can now confirm that for the firs ttime this year there will be a major live TV broadcast of the NY pride parade via ABC TV, with a linve online stream also available - full details here:
In the meantime, one option not many people consider when looking to watch this kind of event is the local webcam views, and in New York there are probably more of those than any other city in the world! We've found 2 in particular right on the route of the Pride March:
One viewing option that is becoming increasingly popular is to watch via live streaming from people actually at the event, participants and spectators alike, via the range of mobile streaming apps that are now available - one very popular platform is Periscope TV, and we would be almost certain that people will be streaming live from the NYC pride march on there - get the app here:
Hotels and Accommodation
If you're in New York for the Pride events then as always with trips to the Big Apple you'll need to get your reservation made as far is advance as possible to get the best prices. You can search and check availability for local hotels here.
Reviews & Sharing
Page content by Martin Kerrigan. If you have found the content on this page useful then please feel free to share it with your friends and family, or if you have any information or updates that might be useful for us to add to the page then please contact us