Macy's Thanksgiving Parade 2018
Live Stream, TV Coverage, Lineup, Route, Start Time, Viewing
Manhattan, NYC, New York, 22 November, 9.00am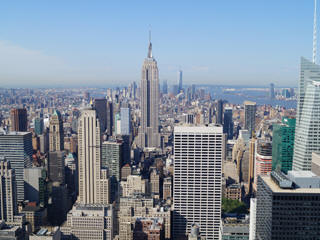 The New York Thanksgiving parade will be available as a live stream again this year, bringing one of the biggest annual parades in NYC direct into the homes of millions of viewers - see below for how to watch live online and for free.
New York more than probably anywhere else in the world know how to make a big deal of a parade, and the Macy's Thanksgiving Day parade is a huge event even by NYC standards. With such a relatively compact large central area, where the urban sprawl is upwards rather than outwards the concentrated nature of New York City makes it that bit easier to fit in a large crowd, and an almost unbelievable 3 million people are expected to turn out to watch the parade this Thanksgiving.
We actually visited New York for the first time this year and having seen the city first hand and witnessed the unique spirit and buzz of the place attending one of the big annual parades is now very much at the top of the bucket list - it could be at Halloween, St Patrick's Day, the 4th July of maybe even Memorial Day, but if I had to choose just one then i think I would opt for the Macy's parade on Thanksgiving just for the sheer scale and ceremony of the event, drawing the whole nation together to, well, quite literally give thanks!
In a country where holiday time tends to be at a premium the population tend to really throw themselves into the big public holidays, and Thanksgiving Day is one in particular that draws family and friends together across the country. parades take place in many towns and cities, and most people will be either participating in or watching a parade at some point in the day.
Route and Schedule
The parade in 2018 takes place as always on Thanksgiving Day itself, the last Thursday in November, which this year falls on Thursday 22nd November. You can expect to see the usual range of celebrity guests - such A list names as Spongebob Sqaurepants, Spiderman, Elmo and Hello Kitty will be in attendance as always.
Parade Route
The parade starts at 9am and lasts around 3 hours in total - it follows the usual, straightforward route:
-Start at 77th Street and Central Park West
-Down Central Park West to Columbus Circle
-Along Central Park South to 6th Avenue
-Down 6th to 34th Street
-Along 34th to finish in front of Macy's Herald Square, usually by around midday
Best Viewing Areas
If you want to get a decent view of the parade, then you'll need to get there very early. Generally speaking the areas along the earlier parts of the parade route tend to be a little less crowded. Some of the best (and therefore most popular!) viewing spots are:
-Along the west side of Central Park West from south of 70th Street down to Columbus Circle
-The eastern side of Central Park West between 65th and 70th
-Around Columbus Circle and along the northern edge of Central Park South
-Time Warner Center, from the 2nd and 3rd floors of The Shops at Columbus Circle mall
-From 58th Street down to 34th on 6th Avenue
-To see the finish, the south side of 34th Street, mainly between Broadway and 7th Avenue
Parade View Hotels
If you want to avoid the crowds down on the streets (and they will be hectic) then there are several hotels along the route with excellent views down over the parade area. If you want to stay at one of these though, be sure to specify when making your reservation that you would like a parade view room, and be prepared to be charged a premium for the privilege!
It goes without saying that the rooms with a view over the Thanksgiving parade will be the first to sell out, usually many months in advance, so you will need to be quick. The best parade views are available from:
-Trump International Hotel & Tower, One Central Park West
-Mandarin Oriental, Columbus Circle
-Ritz-Carlton New York, Central Park, Central Park South at 6th Avenue
-Hilton New York on Sixth Avenue
-Residence Inn New York Manhattan/Times Square, also on 6th
-Courtyard New York Manhattan/Herald Square, W35th Street
TV & Live Streaming
The Macy's Thanksgiving Day parade is shown live on NBC across the nation, so if you can get to a TV you won't have any problems watching the parade - an estimated 50 million viewers tune in across the USA.
There is also a live online stream provided by NBC, but please be aware you will require an active subscription to be able to view this:
There is also free online coverage being provided this year by Verizon with a 360 degree livestream channel on Youtube - this does appear to only be available for US viewers though:
Another option which is frequently underrated is to check out some of the many live webcam views from across the city - there are several positioned at key points on the parade route which make it possible to tune in live to see what's going on throughout the day - check out this excellent map to find the best cameras along the route:
My personal favourite is the Earthcam positioned at Columbus Circle, which is actually a live streaming cam so you can watch the parade go by in real time:
Hotels and Accommodation
If you're in New York for Thanksgiving then you'll need to get your reservation made as far is advance as possible to get the best prices. You can search and check availability for local hotels here.
Reviews & Sharing
Page content by Martin Kerrigan. If you have found the content on this page useful then please feel free to share it with your friends and family, or if you have any information or updates that might be useful for us to add to the page then please contact us