Paris Techno Parade 2017
Live Stream, Route, Start Time, Lineup, Schedule
Paris, France, 23 September, 12 noon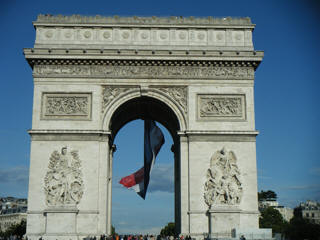 I wasn't really sure which category to put this event in to be honest, it's part music festival and part street parade so could've fitted easily into either, but decided to go for the parade section based purely on the fact that it has the word in it's title. That's right, some pretty advanced thinking is going into this!
The Paris Techno Parade is a part of that peculiarly European genre the Love Parade, where techno and dance music combine with floats and large crowds to create a day-long party in the streets of a major city. This one has been taking place since way back in 1998 so is well embedded in the city's modern cultural heritage these days, drawing crowds estimated at up to half a million onto the city streets to watch and join in with the party.
Being an open-air event the weather is a factor, but Paris in September is usually pretty clement so it would take something pretty severe to put off the crowds, especially as the parade itself is free of charge. You can expect to see around 20 floats with 150 performers, both on the floats and positioned at strategic points along the parade route. The music will be an eclectic mix of trance, electro, house, hardtek and everything and anything in between.
Route and Schedule
The current date we have here of the 23 September for the 2017 parade is a best guess based on previous years, we will confirm for sure as soon as we can.
The parade gets underway at the Place de la Republique at 12 noon then follows the Lovemobile around the city streets for almost 5km in total before ending at the Place d'Italie. Points covered along the way include:
Bd du Temple
Bd Beaumarchais
Place de la Bastille
Rue de Lyon
Av. Ledru-Rollin
Pont d'Austerlitz
Bd de l'Hopital
There is a map of the parade route here:
The parade is technically over by around 6pm local time, but in many ways the party is just beginning as the crowds head off to the city's many bars and nightclubs to continue their celebrations. The main areas to head for are Grande halle de la Villette and the Pont Alexandre III regions, where the clubs will be open until well into the next morning. Check out some of the best parties here:
TV & Live Streaming
Online coverage hasn't always been easy to find but for this year the official site is advertising online streaming via their partners Glowbl
An underrated resource when looking to watch street parades is the local webcam streams, and in Paris you're fortunate to have a large selection of these, including views from Place d'Italie and the Place de la Bastille so you'll be able to catch at least some of the action:
There is always a wide range of video coverage via Youtube too, with user videos of this year's parade sure to be added as the day goes on:
And the very latest updates are of course available via the usual social channels:
Techno Parade Facebook and Twitter using the hashtag #technoparade
Hotels and Accommodation
If you're in Paris at Techno Parade time then there will be the usual wide range of Parisian accommodation to choose from. It is sensible to get your place reserved as soon as possible though as this is a busy time of year. You can check local availability and search for local hotels here.
Reviews & Sharing
Page content by Martin Kerrigan. If you have found the content on this page useful then please feel free to share it with your friends and family, or if you have any information or updates that might be useful for us to add to the page then please contact us