Philadelphia Thanksgiving Parade 2017
Live Stream, Lineup, Route, Start Time, Viewing Points
Benjamin Franklin Parkway, Philadelphia, PA, 23 November, 8.30am - 12noon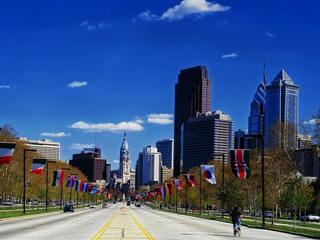 Philadelphia's Thanksgiving Day parade has the honour of being the oldest parade in the country, having survived since 1920 and through various iterations and sponsorships, from the most well known and original Gimbels Thanksgiving Day parade after the famous department store to the current, and if we're honest, somewhat less catchy, 6abc Dunkin Donuts Parade.
Still, if corporate sponsorship is required to keep the Philly parade running then I guess we just need to accept it, it is increasingly a factor in keeping large scale public events running in these modern corporate times.

In common with Thanksgiving parades across the US this event is characterised by colourful floats and balloons featuring favourite film and TV characters as well as seasonal specialities such as The Grinch and Frosty the Snowman. There are also special guest appearances by local celebrities that are often only announced at the last minute.
Route and Schedule
The Philadelphia parade gets underway at 8.30am and is usually finished around noon. The parade 1.4 mile has a very simple route:

- Start on 20th Street and JFK Boulevard
- 16th Street to the Benjamin Franklin Parkway
- Down the Parkway until Logan Circle
- Around the south side of Logan Circle, then back on the Parkway to Eakins Oval
- South side of Eakins Oval
- Finish at the Philadelphia Museum of Art

The best viewing spots are generally anywhere along the Benjamin Franklin Parkway, while the largest crowds tend to gather at the Museum of Art and Logan Circle. As always with these events, getting there early is genrally the most important factor in securing a good vantage point.

There is an excellent map of the full parade route and best viewing spots here:

Parade route map
TV & Live Streaming
The parade is broadcast live on local TV channel WPVI each year and also syndicated out to channels across the country so finding coverage on the television shouldn't be a problem wherever you are. For online viewing, there is a live stream provided by parade co-sponsors 6abc via their website, you can watch it live online here:

Thanksgiving parade live stream

There is also the option of checking out some of the local webcam views for a more local flavour of the day's events, there are several located in key locations around Philadelphia, including some convenient traffic cam spots right on the Benjamin Franklin Parkway:

Philadelphia webcams
Hotels and Accommodation
Hotel accommodation is at a premium over Thanksgiving so getting your reservation made early is a good idea. Decent choices on or very close to the parade route itself include The Sheraton, The Windsor, Le Meridien and Embassy Suites.
You can search and check availability for local hotels here.
Reviews & Sharing
Page content by Martin Kerrigan. If you have found the content on this page useful then please feel free to share it with your friends and family, or if you have any information or updates that might be useful for us to add to the page then please contact us