Rio Carnival 2018
Live Stream, TV Coverage, Webcast Feed, Dates, Schedule
Rio de Janeiro, Brazil, 9-13 February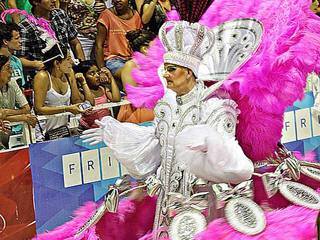 The Rio carnival returns bigger and better than ever in 2018, with the parades set to be some of the most spectacular the event has seen. The addition of free live online streaming has now made the Rio carnival, or Carnaval de Rio, even more accessible to a global audience.
In a highly competitive field that includes parades and events in locations as diverse as New Orleans, Trinidad and Tobago and Notting Hill the Rio Carnival is widely acknowledged as the biggest in the world, with an almost unbelievable 2 million plus participants every year taking to the streets. It is also one of the oldest in existence, able to trace its roots as far back as 1823.
The carnival's events spread themselves far and wide across the city so if you're in town it's easy to find something to get involved in. The highlights of the carnival each year are the balls at the Copacabana Palace and nearby famous beach and of course the parade of the Samba Schools in the city's iconic Sambodromo, with the biggest of all the street parties taking place simultaneously directly outside.
Route and Schedule
The main events of the 2018 carnival are now confirmed as follows:
Friday 9 February
13:00 Opening Ceremony and the crowning of the King of Carnival
21:00 Preliminary Schools Parades in the Sambodromo
Saturday 10 February
09:30 Street Band Downtown
16:00 Ipanema Band
20:00 Street Bands Contest at Avenue Rio Branco
21:00 More Preliminary Schools Parades in the Sambodromo
23:00 Magic Ball at Copacabana Palace Hotel
Sunday 11 February & Monday 12 February
21:00 Main Schools Parade in the Sambodromo
Tuesday 13 February
16:00 Ipanema Band
21:00 Children's Samba Schools Parades
23:00 Gay Ball at Scala Rio
As well as the above events, every day of the Rio Carnival will see street band parades at Copacabana and Ipanema beaches in the afternoons, dances at Cinelandia, concerts at Samba Land and Concerts in Lapa every evening.
For all the parades the doors open at 5pm and the parade continues until the early hours of the morning - 5 or even 6am finished are not uncommon, so be prepared for a long night!
TV & Live Streaming
In previous years live coverage of the Rio Carnival has been provided on TV and online by Brazilian broadcaster Globo TV but back in 2015 they dropped out of providing a live stream and as a result it was very difficult to find anywhere to watch the carnival parades online, or even on TV if you weren't in Brazil.
Last year coverage returned with a live stream provided by Red Bull TV but there doesn't seem to be any sign of this coming back for 2018.
Latest: The best coverage this year would look to be on Globo TV once again, with over 50 hours of total carnival coverage, not just from Rio but also Sao Paulo, Recife and Salvador. There are more details of the schedule here.
This coverage is also available to watch online via Globo Play, which they are also offering to non-subscribers free of charge for the carnival parade coverage:
Elsewhere around the world you can see our full range of live coverage of mardi gras and carnival events around the world, including the big Fat Tuesday parades in Trinidad & Tobago, Houma, Lake Charles and New Orleans here:
Hotels and Accommodation
If you're planning on visiting Rio de Janeiro during the carnival and looking for somewhere to stay to attend the samba parades or other events then be aware that hotel prices tend to peak at this time, so an early reservation is strongly recommended.
You can check out availability and make reservations for local hotels here.
Reviews & Sharing
Page content by Martin Kerrigan. If you have found the content on this page useful then please feel free to share it with your friends and family, or if you have any information or updates that might be useful for us to add to the page then please contact us