Rome New Year Parade 2018
Live Stream, Route, Start Time, TV Coverage
Rome, Italy, 1 January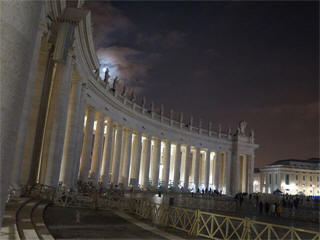 The Rome New Year parade is a key part of the festive season celebrations and pageantry in the great city of Rome, with crowds of tens of thousands lining the route to St Peter's Square at The Vatican to mark the start of the new year as well as taking the opportunity to receive the Pope's annual New Year's Day blessing. An crowd in excess of 100,000 is estimated to take part in the parade and blessing combined. If you would like to attend the new year's day mass that precedes the Papal blessing then you will need to contact the Vartican in advance for tickets.

Rome is a fabulous city to spend the festive season, with a relaxed atmosphere as people take the opportunity to spend time with their friends and families. If you are in the city at this time of year be sure to take the time to see the large Christmas trees that are erected at The Colosseum and also in Piazza Venezia, right in front of the Altar of the Fatherland, Altare della Patria, the views from the top of which are some of my favourite in Rome, especially around sunset time. The picture on this page is actually one we took at the Vatican last Christmas, when we were fortunate enough to spend the holiday in Rome.
If you are in Rome over the new year period be sure to check out all the Rome new year's eve events.
Route and Schedule
The parade route is very straightforward, starting near the Castel Sant Angelo (one of my personal favourite Roman landmarks) and travelling along the Via della Conciliazione before ending in St Peter's Square at The Vatican, right in front of the famous St Peter's Basilica.

Participants in the parade include marching bands, as well as military, civic and auxiliary units.
TV & Live Streaming
There is some live coverage available from the Vatican on a series of live webcams positioned in and around St Peter's:
If you're looking for live coverage of the Pope's new year blessing then it will be covered by news channels all over the world so finding a live stream shouldn't be too difficult.
There is a Vatican Youtube channel which looks the best bet for online coverage, they have live streaming from many of the Pope's engagaments, including press conferences and general audiences, so I would expect the new year blessing to be covered:
Hotels and Accommodation
If you're in Rome for New Year's Eve then you will need to make your accommodation reservations well in advance as the city will be packed with tourists from all over the world.
You can search and make online bookings for local hotels here.
Reviews & Sharing
Page content by Martin Kerrigan. If you have found the content on this page useful then please feel free to share it with your friends and family, or if you have any information or updates that might be useful for us to add to the page then please contact us