St Louis Mardi Gras 2017
Live Stream, Grand Parade, TV Coverage, Dates, Start Time
St Louis, Missouri, 25 Feb (Grand parade)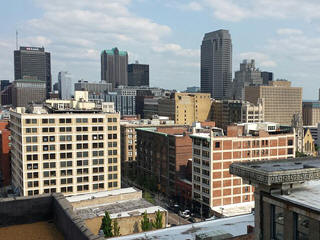 St Louis isn't a location you would immediately associate with Mardi Gras, but this mid-western city does indeed embrace the annual tradition with a series of events leading up to the Grand Parade, which usually takes place on the Sunday immediately preceding Fat Tuesday.

The St Louis mardi gras is one of the more recent large scale celebrations of the occasion in the United States, having only started in earnest in the 1980s, but it has grown very impressively since then to the current event which is attended by an estimated quarter of a million people, lining the city's streets to watch the Grand parade, although inclement weather has been known to reduce this number drastically, the February climate can still be somewhat hostile in this part of the country!
You can see our full range of live coverage of mardi gras and carnival events around the world here: Watch Mardi Gras live
Parade Schedule, Routes
The main mardi gras events in St Louis for 2017 are as follows:

24th February: Mayors Mardi Gras Ball at Saint Louis City Hall Rotunda of St. Louis City Hall
25th February: Mardi Gras Grand Parade
28th February: Fat Tuesday Downtown

The Grand Parade is a free event and gets underway at 11am from Busch Stadium, passes through Downtown South and Soulard and ends at the Anheuser-Busch Brewery.
TV & Live Streaming
Live coverage of the Grand Parade is left to the local TV and radio networks, there has yet to be any interest shown in national coverage. Most local TV channels do offer a live stream these days though so any coverage is also likely to be available online, we will be keeping our eyes peeled and post any links we find right here.

In the meantime you might like to check out some of the local webcam views, there are several live streaming cameras positioned in and around St Louis, often a great way tocheck out what's happening in an area when a big event like this is taking place:

St Louis webcams
Hotels and Accommodation
If you're looking to do Mardi Gras on a budget then St Louis is a pretty good choice, you won't be stung by the inflated hotel costs you might find in New Orleans or other more famous Fat Tuesday destinations, and you're always pretty much guaranteed a warm welcome in this famously friendly town.
You can check out availability and make reservations for local hotels here.
Reviews & Sharing
Page content by Martin Kerrigan. If you have found the content on this page useful then please feel free to share it with your friends and family, or if you have any information or updates that might be useful for us to add to the page then please contact us