Trooping the Colour 2017
Live Stream, TV Coverage, Route, Start Time
Horse Guards Parade, Whitehall, London, UK, 17 June, 10.00am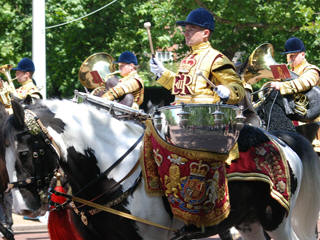 Now this is an event that is a quintessentially English tradition, a sight that you just won't find the equivalent for anywhere else in the world, although some Commonwealth countries still use the Trooping of the Colour as their template for providing entertainment when the Queen comes to visit. Not strictly speaking a parade in the most traditional sense, we've included it in this section purely from a lack of somewhere more applicable.
The Trooping of the Colour is probably one of the most long-running historical events we'll ever add to the site, taking place in various formats since way back in the 17th century. The event is designated to mark the Queen's official birthday, which is conveniently held in June which makes clement weather much more likely than if it took place on her actual birthday, which is back in chilly April.
If you're in town for the weekend it's well worth taking in the Trooping the Colour, but be sure to get there early to secure yourself a decent vantage point. If you're keen on the pomp and ceremony of the occasion but not so much the crowds then it's worth noting that there is an earlier version of the event exactly a week before, where the Colonel's Review acts in effect as a dress rehearsal for the day itself.
Route and Schedule
The route of the Trooping the Colour is long established - the Queen will travel in her carriage down The Mall from Buckingham Palace. The best public viewing points are on The Mall itself or along the edge of the adjacent St James's Park.
At precisely 11am (as struck by the clock on the Horse Guards building) the royal party will arrive at Horse Guards parade on Whitehall to make the inspection of the Guards and the Household Cavalry.
The Queen will then return to Buckingham Palace for the 41 gun salute by the King's Troop located in Green Park, before watching a Royal Air Force fly past from the balcony of the palace. The event will be completed by around 1pm.
TV & Live Streaming
The Trooping of the Colour is broadcast each year on the BBC, with live coverage of the whole event on BBC1 for those of you who can get to a TV.
The BBC also now has a live streaming viewing option via their excellent iPlayer so anyone in the UK can catch the event online. There is also widespread TV and online coverage of the event in countries around the world, with particular interest in the US, Canada, Australia and New Zealand:
Trooping the Colour live streaming
Hotels and Accommodation
If you're in London for the Trooping of the Colour, or just for an early summer holiday then there is an extensive range of accommodation to suit most budgets. You can begin your search for local hotels here.
Reviews & Sharing
Page content by Martin Kerrigan. If you have found the content on this page useful then please feel free to share it with your friends and family, or if you have any information or updates that might be useful for us to add to the page then please contact us