Venice Carnival 2017
Webcams, Dates, Parades, Events, Parties
Venice, Italy, 11th-28th February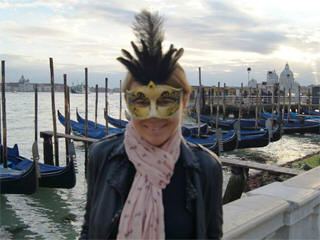 Venice Carnival, or to give it the correct technical title Carnevale di Venezia or Carnival of Venice is a uniquely colourful affair, bringing a festival of costumes, music and pageantry to this most fabulous of Italian cities. The origins of the carnival can be traced way back to the 12th century, but in it's current modern format it has been a fixture on the Venetian calendar since 1979.

We actually attended the Venice carnival in 2014 and found it to be a truly spectacular affair, with the majority of the crowds dressing up in everything from full period costume to just masks and hats and a series of events including parades, a boat parade on the Grand Canal, shows and live performances in St Mark's Square and just a general atmosphere of run and revelry that it is hard to imagine being replicated elsewhere, this is most definitely a top recommendation for anyone's bucket list.
Carnival Dates, Events
February 11th

The Festa Veneziana - Part 1
February 12th

The Festa Veneziana - Part 2

February 18th

Festa Delle Marie Parade

February 19th

Volo dell'Angelo, the Flight of the Angel

February 26th

The Eagle Flight
Il Volo dell'Asino, the Flight of the Donkey
Masked Costume Award Ceremony

February 28th

Waiting for the 12 Maries of Carnival

February 28th

Festa delle Marie Award Ceremony
The Svolo Del Leon
Webcams & Streaming
There may well be live streaming of some of the main events and parades in particular, Italian TV channel Rai Uno have certainly provided coverage in the past, so we will post any links we find here as they become available.

One way you will certainly be able to catch some live action from the Carnival of Venice is to check out some of the local webcam views, there are some in key positions in Venice ideally placed to watch some of the main events:

Grand Canal webcam

St Mark's Square webcam
Hotels and Accommodation
Accommodation in Venice is exceptionally pricey at any time of year, and when the carnival is taking place this is even more of an issue. Our top recommendation therefore is to head a little off the main island of Venice and use the excellent public transport to head into town for the carnival events, the trains run late into the night and are very reasonably priced.

Nearby towns on the main train live worth checking out include Padua and Vicenza, while even Verona is little over an hour away on the faster trains. Not only are these places much more reasonably priced and easily accessible they are also fabulous holiday destinations in their own right.
You can check availability and make reservations for local hotels here.
Reviews & Sharing
Page content by Martin Kerrigan. If you have found the content on this page useful then please feel free to share it with your friends and family, or if you have any information or updates that might be useful for us to add to the page then please contact us