Amsterdam Marathon 2017
Live Stream, Course, Start Time, Race Route
Amsterdam, The Netherlands, 15 October, 9.30am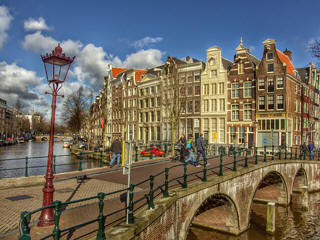 The Amsterdam Marathon is one of the larger European marathons, taking place in late Autumn each year, usually around the middle of October.
In a country renowned worldwide for flat terrain the course is widely regarded as one of the gentler options and as such represents a decent starting point for runners with an eye of working their way up to the more challenging marathon distance events.

The marathon, which has now been taking place annually since 1975, is currently fully titled the TSC Amsterdam marathon die to the current sponsor Tata Consultancy Services. In common with many city marathons these days there is also a half marathon run on the same day, using a lot of the same route.
Event Details
The main marathon gets underway at 9.30am, with an official latest finish time of 5pm. The race starts at the city's Olympic Stadium, while the finish line is located in the same location, just a short distance away.

As well as the Olympic Stadium, some of the city's most notable sights are covered by the race route. These include:

Rijksmuseum
Vondelpark
Amstel River

You can see a full map and description of the marathon course here.
Social & Streaming
There has been for several years now excellent online coverage of the Amsterdam marathon, with a live stream covering the whole event. We expect the same this year and will post the appropriate links right here as soon as we have them.
Latest: You can watch the marathon live online stream here: Amsterdam marathon stream

Another option you might like to consider is to keep an eye on some of the webcams located in key positions around the city, with several along the marathon route itself. This can be an excellent way of getting a different perspective on the events of the day:

Amsterdam webcams
Hotels and Accommodation
The city will be busier than usual for this time of year over the marathon weekend due to the influx of both runners and spectators, so we advise you to book your accommodation well in advance if you can.
You can check availability and make reservations for local hotels here.
Reviews & Sharing
Page content by Martin Kerrigan. If you have found the content on this page useful then please feel free to share it with your friends and family, or if you have any information or updates that might be useful for us to add to the page then please contact us